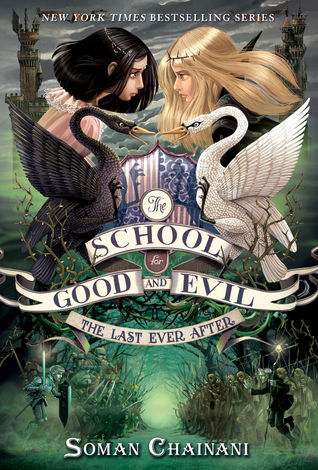 The Last Ever After
by
Soman Chainani
Series:
The School for Good and Evil #3
Published on
July 21st, 2015
by
HarperCollins
Genres:
Middle Grade
,
Fantasy
Format:
Paperback
Source:
Purchased
Amazon
|
B&N
|
BookDepository
|
Goodreads
Also by this author:
The School for Good and Evil
,
The School for Good and Evil
,
A World Without Princes
In the epic next chapter of Soman Chainani's New York Times bestselling series, The School for Good and Evil, everything old is new again as Sophie and Agatha fight the past as well as the present to find the perfect end to their story.

As A World Without Princes closed, the end was written and former best friends Sophie and Agatha went their separate ways. Agatha was whisked back to Gavaldon with Tedros and Sophie stayed behind with the beautiful young School Master.

But as they settle into their new lives, their story begs to be re-written, and this time, theirs isn't the only one. With the girls apart, Evil has taken over and the villains of the past have come back to change their tales and turn the world of Good and Evil upside down.

Readers around the world are eagerly awaiting the third book in The School for Good and Evil series, The Last Ever After. This extraordinary new journey delivers more action, adventure, laughter, romance and fairy tale twists and turns than you could ever dream of!

"Graves are meant for dead people, who have no reason to see, breathe or use the toilet."
Let me start by saying that The Last Ever After has got to be both the most annoying and most adorable modern fairy tale I've encountered so far.
Here's why:
To start with the story takes off right after A World Without Princes left off, so it's pretty easy to back get into the flow of the story itself as it unfolded on the pages. But there's so much happening!  At first it was hard to actually follow everything going on, but it got better as it progressed. Needless to say though that there were moment, I was like "…..whut even?!" and "Argh…. really? You gonna do that, really? *facepalm*", so yeah the story with Sophie and Agatha and how the journey to their Ever After developes on the pages was amazing. And annoying. And a a whole bunch of other things at the same time. It even had the audacity to hit me in the feels on 1 or 2 occassions.
Soman Chainani has this way with words and narrative that still makes me keep reading, even if I feel like banging my head against the wall because of the characters. I'd like to name his sort of writing "Fairy Tale" style, because when you read, you can practically feel the magic and world close in around you, sucking you in and not letting you go until The End.
"Alone in candlelight, she closed her eyes and made a wish…
For a prince…a castle…a crown…
Evil this time, instead of Good.
A chill swept through  the cave and blew the candle out."
Now Sophie and Agatha, Oh my Planet. Seriously there were so many times I just wanted to grab them both, shake their young bodies and scream: "MAKE UP YOUR DAMN MINDS!!!". Ahem, so yes that happened. Totally happened. Also what's the deal with Sophie? She's even more of a [bleep] than in the last 2 books. Even at the ending, I still didn't like her when she had her "change of heart"  I'm afraid to even mention Tedros. Yes, he does grow a bit but he's also still the same stuck-up, arrogant, entitled prince he was in the last 2 books. On a positive note, I did like the famous fairy tale characters making an appearance. Like Cinderella (OMP seriously who knew she was so mean), Pinocchio (grouchy old man), Peter Pan and Tink (couldn't stop laughing them, poor Tink though), Briar Rose and Jack (really, Soman, really these two … like that?), Hansel and Gretel (they crack me up), Red Riding Hood (weird little thing, also never knew she was so helpless) and of course Merlin (funny old crack pot, that one). They're all unlike what you'd expect them to be. Even the villains that show up aren't all as they seem. (Except the Old Villains, they are evil,…pure, pure, pure evil). Sometimes I feel the other Villains overshadowed The School Master. Yes, he's the villainous villain ever, but I don't know, I'd hoped for more evilness from him than what I got. I am doing a little shout out to Hester, Dot and Anadil, I liked those three so much and I seriously think they are the best Evil characters in the book, also one of the funniest. And Guinevere and Lancelot are so adorable together!
"Remind me never to give you something for Valentine's day."
With all that said, The Last Ever After was still an amazing book. And I loved it  and hated it at the same time. As a little extra, I fairy dusted some of the quotes that stuck in my head while reading the book. I couldn't help myself. And despite the frustration I felt at times because of Sophie and Agatha, I still loved the message hidden within their story. And I still loved the story and how despite all the troubles, sorrow, deaths and destruction, Love still conquered all and Ever After finally came along.