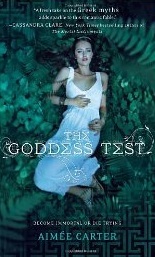 The Goddess Test
by
Aimee Carter
Series:
Goddess Test #1
Published on
April 19th, 2011
by
Harlequin Teen
Genres:
Young Adult
,
Romance
,
Mythology
Format:
Paperback
Source:
Purchased
Amazon
|
B&N
|
BookDepository
|
Goodreads
Also by this author:
Pawn
,
Pawn
,
Captive
Every girl who had taken the test has died.
Now it's Kate's turn.

It's always been just Kate and her mom - and her mother is dying. Her last wish? To move back to her childhood home. So Kate's going to start at a new school with no friends, no other family and the fear that her mother won't live past the fall.

Then she meets Henry. Dark. Tortured. And mesmerizing. He claims to be Hades, god of the Underworld - and if she accepts his bargain, he'll keep her mother alive while Kate tries to pass seven tests.

Kate is sure he's crazy - until she sees him bring a girl back from the dead. Now saving her mother seems crazily possible. If she succeeds, she'll become Henry's future bride and a goddess.

If she fails...
I bought this book after reading the blurb. I'm a sucker for Greek Mythology so of course I loved the prospect of reading a nice book about the kickass Gods and Goddesses of Mount Olympus.
Imagine my surprise then when it turns out that those badass Gods are a bunch of pussies! I mean c'mon Hades, God of the Underworld, a virgin? Having Zeus, King of the Gods say lust is wrong, now that's just messed up! And another thing using the Seven Deadly Sins as a means to test Kate?
C'MON!!
Those two things have no [bleep] thing in common with each other! So that aspect of this book completely put me off, but I did finish the book and in the end I am glad I read it, even if I didn't give it much of a good rating.
The story itself isn't so bad, neither are the characters. I don't mind Kate so much and I admit I loved her dedication and the love she displayed for her mother, Diana, in the book. And despite the fact that in my mind Hades would never be like the one in this book, I rather liked Henry (Hades). Also the twist with Calliope, I did not see that shit coming! It was a really good twist on the author's part.
I also enjoyed Aimée's writing style and the way she described places and people in her book. And like I said, the story itself wasn't bad, but I just wished she didn't have to butcher the Greek Mythology the way she did to write this.
I'm sure other readers will enjoy this book the way it is and despite the way she used the Greek Gods, Carter's books still piqued my interest, so I will probably read the sequels to this book and hopefully they'll be better than The Goddess Test.
But in the end, I just couldn't justify giving the book more then 2,5 stars.