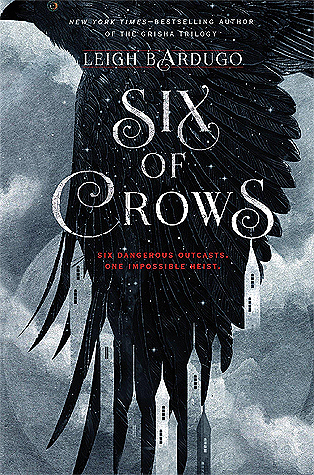 Six of Crows
by
Leigh Bardugo
Series:
Six of Crows #1
Published on
September 29th, 2015
by
Henry Holt & Co.
Genres:
Young Adult
,
Urban Fantasy
,
Action & Adventure
Format:
Hardcover
Source:
Purchased
Amazon
|
B&N
|
BookDepository
|
Goodreads
Also by this author:
Shadow and Bone
,
Siege and Storm
,
Ruin & Rising
,
Shadow and Bone
,
Siege and Storm
Ketterdam: a bustling hub of international trade where anything can be had for the right price—and no one knows that better than criminal prodigy Kaz Brekker. Kaz is offered a chance at a deadly heist that could make him rich beyond his wildest dreams. But he can't pull it off alone...

A convict with a thirst for revenge

A sharpshooter who can't walk away from a wager

A runaway with a privileged past

A spy known as the Wraith

A Heartrender using her magic to survive the slums

A thief with a gift for unlikely escapes

Kaz's crew are the only ones who might stand between the world and destruction—if they don't kill each other first.

Oh for the love of all that's bookish!!!
Why? Why would Leigh make us suffer like this? It's just not fair. It's not. I just can't believe that that was the ending of Six of Crows. Even having to wait 3 more months, is just too much for me to handle right now, I need Crooked Kingdom and I need it NOOOOOOOOOOOOW!!!
… All right, I'm calm … I'm … calm. More or less anyway. So let's talk about this book, shall we?
Now let me think, what is there for me to say that hasn't already been said by others? I guess not much, to be honest. Except declare my undying love for Kaz (mmmmmhhhh Kaaaaaaaaaaaaaaaaaz <3 ), and express my jealousy that Inej is actually getting him (well more like going to get him). Kaz is such a stubborn little munchkin, but I still love him to bits. Though I have to admit, Matthias and Jesper are fun in their own strange and mad kind of way. But Kaz just rules them all. Wylan on the other hand, can be so cute and naive, it makes me feel sorry for him at some points in the book. I must also confess that I love the love-hate thing that was going on with Matthias and Nina. They might actually make it as a couple yet.
As for the story part of the book, well honestly it's Leigh Bardugo … do I really need to say more? Of course the story was awesome, what else could it be? The seamless way she integrated this maginificent story filled with magic, darkness, humour and heart pounding action with an amazingly detailed world-building, six different main characters, several POVs and make it into this incredible piece of work, is nothing short of genius. There aren't many authors out there, who could pull of what Bardugo did now for Six of Crows and I LOVE that. It exceeded all my expectations.
Now this is something I rarely do, but this book took my breath away, made my laugh until I fell of my chair and made me nearly cry, so I just have to share a few of my favourite quotes. And here they are:
"I'm a businessman," he'd told her. "No more, no less."
"You're a thief, Kaz."
"Isn't that what I just said?
First thing that made me giggle while reading.
"Greed is your god, Kaz."
He almost laughed at that. "No, Inej. Greed bows to me. It is my servant and my lever."
"And what god do you serve, then?"
"Whichever will grant me good fortune."
"I don't think gods work that way."
"I don't think I care."
And this one, made me cackle.
"You wouldn't know a good time if it sidled up to you and stuck a lollipop in your mouth."
At this point, I couldn't help but think that Nina is quite the little hissy cat. (and to those who get the reference, I'll give you a cookie)
Kaz leaned back. "What's the easiest way to steal a man's wallet?"
"Knife to the throat?" asked Inej.
"Gun to the back?" said Jesper.
"Poison in his cup?" suggested Nina.
"You're all horrible," said Matthias
I know this one is quite famous now, but daaaaaaamn if it didn't nearly make me spit out my soda, laughing.
"I need you to move."
"Why?"
"Because I need a clear line of sight, and right now all I can see is your ass."
And this one, well I just couldn't resist, it was just funny and I giggled like a schoolgirl.
All that being said, these quotes wrap up my review nicely. Anyone who loves a good heist story and fantasy should definitely pick this book up like RIGHT NOW!! Seriously, you won't regret it.