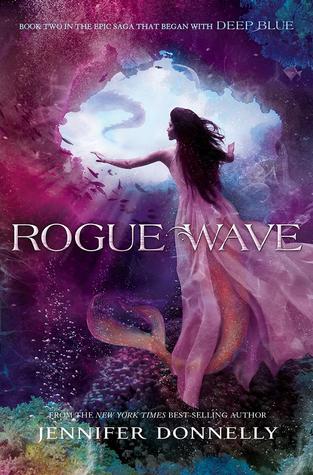 Rogue Wave
by
Jennifer Donnelly
Series:
Waterfire Saga #2
Published on
January 6th, 2015
by
Disney Hyperion
Genres:
Young Adult
,
Fantasy
,
Mermaids
Format:
Hardcover
Source:
Purchased
Amazon
|
B&N
|
BookDepository
|
Goodreads
Also by this author:
Deep Blue
,
Deep Blue
,
These Shallow Graves
,
Dark Tide
,
Stepsister
Serafina, Neela, Ling, Ava, Becca, and Astrid, six mermaids from realms scattered throughout the seas and freshwaters, were summoned by the leader of the river witches to learn an incredible truth: the mermaids are direct descendants of the Six Who Ruled-powerful mages who once governed the lost empire of Atlantis. The ancient evil that destroyed Atlantis is stirring again, and only the mermaids can defeat it. To do so, they need to find magical talismans that belonged to the Six.

Serafina believes her talisman was buried with an old shipwreck. While researching its location, she is almost discovered by a death rider patrol led by someone familiar. . . . The pain of seeing him turned traitor is devastating.

Neela travels to Matali to warn her parents of the grave threat facing their world. But they find her story outlandish; a sign that she needs to be confined to her chamber for rest and recovery. She escapes and travels to Kandina, where her talisman is in the possession of fearsome razormouth dragons.

As they hunt for their talismans, both Serafina and Neela find reserves of courage and cunning they didn't know they possessed. They face down danger and death, only to endure a game-changing betrayal, as shocking as a rogue wave.
Since it's been a while since I read Deep Blue, I thought I would be confused as hell when I started reading Rogue Wave. Fortunately that was not the case (or unfortunately depending on how you look at it, I guess). In the first few chapters we get re-introduced to almost everything that happened in the first book. And while it helped me remember what Deep Blue had been about, it was sometimes boring to read it again.
Besides that, I think Rogue Wave was well written, Jennifer Donnelly has this distinctive way of writing, that makes the story flow smoothly. I quite like it and it made reading this book easy and fun.
As far as the actual continuation of the story goes about the girls. We only really see 3 of them "perform" in Rogue Wave, which is a bit of a missed oppportunity in my opinion (but then again everyone one has a different opinion). I liked that we got to see more of the cities and even a bit of Atlantis itself a bit. Sera, Neela and Ling's stories are nice and fun to read. Especially the part of Neela's homecoming, I like that one the best and also scary because well …. PINK!!
I REALLY DON'T LIKE PINK!!!!!
Ahem, excuse me… so anyway, we see how Sera finds her way to Atlantis back to Miromara, where a lot of things have happened for the worse. I quite enjoyed the short, sweet pieces of her and Madhi. Not to mention her quest to find the talismanns she and the other merls need to fight of Abbadon in the end. Neela's story is different but exciting all the same, like I said her homecoming doesn't go the way she thought it would and then thanks to Sera, she gets to fights off Razormouths in search of one of the talismanns, that's supposedly hidden away in Matali. (btw if you haven't noticed, I'm trying to keep this reivew spoiler-free, so yeah some things of what I might say, just won't make sense). As for Ling, well honestly, I think we only get two or three chapters where we see what she does and frankly, we don't get to see much of what she accomplishes after she splits with Sera to go to the Great Abyss, where she would try and find a talismann, or at least a clue about it.
All in all, I liked the story, it had it's flaws, mainly the great many strange words that are mostly left unexplained (luckily there's such a thing as a Glossary at the end of the book, for those interested in knowing more about the weird words) and the sometimes weird switching between POV's from one merl to the next. For the most part though, I enjoyed it quite a lot and It's a fun story to read.
As for the characters. I have to admit, I'm still not connecting with any of them. The closest I've gotten with is Neela, and that's because she's such a bubbly personality, it's almost unthinkable to not like her. Sera on the hand, she's still not growing on me. I don't feel for her or her plight. And don't even get me started on Madhi, he's a confusing hot mess and I don't really know how to truly feel about him. Also I think he's a naive idiot, so is Sera for that matter. Especially near the end of the novel. As for Ling, well she doesn't get much time on the pages, so the jury's still out on that one. Perhaps my feelings for these characters will all change in the next book Dark Tide. However I do have to admit, that I like Coco and I hope both Portia and Lucia will get their asses handed to them in the end. Hopefully so will Traho and Mfeme, because they're both bastards and need a good arse kicking.
So that's my opinion of this book. It's a nice and fun read but flawed. It's an enjoyable book nonetheless and for those who like fantasy and mermaid stories, I'm sure you'll find this a good book and enjoy it.