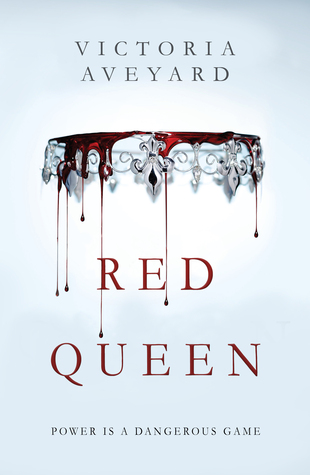 Red Queen
by
Victoria Aveyard
Series:
Red Queen #1
Published on
February 10th, 2015
by
HarperTeen
Genres:
Young Adult
,
Fantasy
Format:
eBook
Source:
Gifted
Amazon
|
B&N
|
BookDepository
|
Goodreads
Also by this author:
Red Queen
,
Red Queen
This is a world divided by blood - red or silver.

The Reds are commoners, ruled by a Silver elite in possession of god-like superpowers. And to Mare Barrow, a seventeen-year-old Red girl from the poverty-stricken Stilts, it seems like nothing will ever change.

That is, until she finds herself working in the Silver Palace. Here, surrounded by the people she hates the most, Mare discovers that, despite her red blood, she possesses a deadly power of her own. One that threatens to destroy the balance of power.

Fearful of Mare's potential, the Silvers hide her in plain view, declaring her a long-lost Silver princess, now engaged to a Silver prince. Despite knowing that one misstep would mean her death, Mare works silently to help the Red Guard, a militant resistance group, and bring down the Silver regime.

But this is a world of betrayal and lies, and Mare has entered a dangerous dance - Reds against Silvers, prince against prince, and Mare against her own heart...

Wow … just wow.
That's all I can say about this book, really. When my best friend first pointed out this book to me, I was like "Okay, cool another fantasy, let's hope for the best." But then the cover came out and then I started obsessing over the blurb and then I finally got my hands on a copy of the book and man, oh man I could not stop reading!
I loved every little thing about Red Queen from the plot, to the writing style and even most of the characters! It was just amazing.
So let me talk a little about the story. Which is about Mare a seventeen-year-old Red girl, she's really just a normal girl like everybody else but her being labeled a Red, is for one simple reason. In her world, there are two classes of humans: Reds and Silvers. And of course it's the Silvers that are the more privileged of the two, because of their Silver blood and their abilities (which range from being able to bend fire, metal, water, nature, light and even control the minds of others). Now Mare is set to be shipped off to the war front, because she wasn't able to get an apprenticeship and any eighteen-year-old who learns no skill at all, is shipped of to the war the Silvers caused.
Of course, Mare doesn't get shipped off when she suddenly gets the chance to work at the palace of the King and Queen (both Silvers), however at the Queenstrial, it is discovered that Mare, somehow has abilities of her own, the ability to manipulate lightning. So of course, to hide the fact that a measly Red girl has abilities, she's given a new identity by the King and Queen and forced to start living as a Silver.
Now that's about all I'm gonna say about the story itself, everything else you'll have to read for yourself.
As for the characters, I like Mare, she's tough, kind, loyal but also a bit gullible and too trusting if you ask me, even when she knows she shouldn't trust anyone. As for the boys Maven and Cal, the two princes. I actually not fond of either character, because of the way they acted in the book. There is one Silver, that I really like and that's Julian, the brother of the former Queen and also Mare's tutor for a while. Of course you've also got the Scarlet Guard characters and I don't know what to make of them. They're bad ass rebels, sure, but I don't feel much else for them.
That's about if for the characters. I've got to admit though there was one thing that put me off and that was that, that huge twist at the ending? Yeah, I was expecting something like that to happen. Because in the book you are warned constantly that "Anyone can betray anyone" so you're kinda expecting it to happen all the time anyway.
The ending itself, as whole was a different matter. I'm not gonna spoil anything for anyone, but Holy Crackers, that ending was mind-blowing, treacherous and bloody!!! I LOVED IT!!! It was unlike so many endings I have read before in others books and it makes me ache to read the second book.
I'd highly recommend this book to anyone who loves Fantasy, because it is an incredible read!