This book may be unsuitable for people under 17 years of age due to its use of sexual content, language, and/or violence.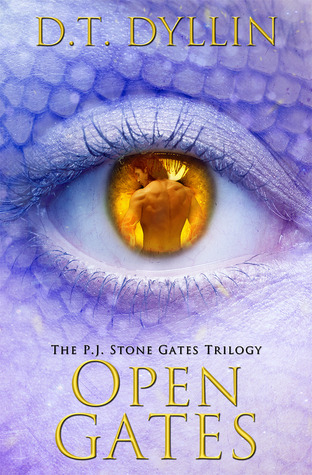 Open Gates
by
D.T. Dyllin
Series:
P.J. Stone Gates #3
Published on
December 19th, 2013
by
Dragonfairy Press
Genres:
New Adult
,
Paranormal
,
Romance
Format:
eARC
Source:
Author
Amazon
|
B&N
|
BookDepository
|
Goodreads
Also by this author:
Kat Scratch Fever
,
Kat-napped
,
Open Gates
,
Hidden Gates
,
Broken Gates
***This book is included, along with the first two in the trilogy, in an eBook bundle and a print anthology. It is not available separately.

Bryn is gone. Jenna isn't herself. And the world has been taken over by the alien Riders. The only constant in P.J.'s life is Khol. But even he might not be able to help her pick up the shattered pieces of her existence.

P.J. finally gets the answers to all her questions, but will she be able to handle the truth? And will she be strong enough to face her own destiny when the time comes?
I received this book for free from the publisher or author in exchange for an honest review.
This does not affect my opinion of the book or the content of my review.

*sniffs* okay so I cried, so what? I was sobbing like crazy near the end of the book, first because weddings make me cry and then because of the decision P.J. made. I mean I can't believe she would give up so much, just to save her world and the people right when she was finally happy.
Seriously I couldn't do anything but just stare at the last page, bawling like a baby. God these books were an emotional rollercoaster for me, but Open Gates was so much more, it's the perfect conclusion for the P.J. Stone Trilogy. It's dramatic, passionate, addictive, romantic and heart-breaking all at the same time.
All the characters seriously grew during the story and I mean literally EVERYONE. Oh and can I just say that I adore Morag? She's awesome and she's badass with those cool powers of hers. I won't spoil anything for anyone, on who and what she exactly is, because you all have to find it out for yourselves when you get the book. There are a few more characters I like as well, but for the sake of not spoiling anything, I'll keep my mouth shut on who they are.
So as you can all probably tell from all I've said so far, that this book is just amazing, it will leave you sitting on the edge of your seat, it will break your heart, it will make you cry but in the end was worth every fucking second I spend reading it. It's one of the best endings in a Trilogy I've read in years and while I'm sad to see it end, it was a great ending to the trilogy.
So another 5 STARS for this amazing ending to a wonderful Trilogy! A definite Must-Read!!!!