This book may be unsuitable for people under 17 years of age due to its use of sexual content, language, and/or violence.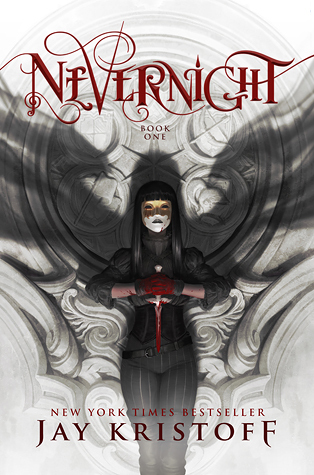 Nevernight
by
Jay Kristoff
Series:
The Nevernight Chronicle #1
Published on
August 9th, 2016
by
Thomas Dunne Books
Genres:
New Adult
,
Fantasy
,
Action & Adventure
Format:
Hardcover
Source:
Purchased
Amazon
|
B&N
|
BookDepository
|
Goodreads
Also by this author:
Stormdancer
,
Kinslayer
,
Endsinger
,
Stormdancer
,
Kinslayer
The first in a new fantasy series from the New York Times bestselling author.

In a land where three suns almost never set, a fledgling killer joins a school of assassins, seeking vengeance against the powers who destroyed her family.

Daughter of an executed traitor, Mia Corvere is barely able to escape her father's failed rebellion with her life. Alone and friendless, she hides in a city built from the bones of a dead god, hunted by the Senate and her father's former comrades. But her gift for speaking with the shadows leads her to the door of a retired killer, and a future she never imagined.

Now, Mia is apprenticed to the deadliest flock of assassins in the entire Republic—the Red Church. If she bests her fellow students in contests of steel, poison and the subtle arts, she'll be inducted among the Blades of the Lady of Blessed Murder, and one step closer to the vengeance she desires. But a killer is loose within the Church's halls, the bloody secrets of Mia's past return to haunt her, and a plot to bring down the entire congregation is unfolding in the shadows she so loves.

Will she even survive to initiation, let alone have her revenge?

Right now, I am utterly destroyed … ruined even.
I can barely form the words to describe the magnificence that is called Nevernight.
Jay Kristoff tore out my heart, mended it and tore it apart again and again with his latest masterpiece. I thought I'd seen it all when I read The Lotus War trilogy and oh heart be still now, lest I plunge into Our Lady's arms and never return. But nothing … nothing could have prepared me for the sheer brilliance that this author wove unto the pages, like an intricate dance.
Rarely does it happen to me, that I fall so deeply in love with an author's writing style, that they could write a freaking cookbook and I'd still read it. I'm serious the almost lyrical in how Kristoff describes everything in this book from the characters we meet, to the world around them and the little gestures they make. Sometimes it even feels a tad poetic in a gore and morbid kind of way. Let me also say that this book is NOT Young Adult in anyway in my eyes. Despite its main character being a young adult. Which is why I classified it as New Adult for my own purposes of being able to talk about all the adulty things happening in this book. *giggle giggle*
People often shit themselves when they die.
Let's start with the story. The first few pages of Nevernight are a bit disorienting but they give us insight into what happened in the past … and into what happens at that very moment. Which is an assassination right off the batt and what a messy one it is. Mia Corvere is our main character and she's been trained by old man Mercurio to try and be initiated as a servant of Maw. After her assassination of one of the men that helped kill her family, she embarks on a journey to Ashkah, to find the Mountain, bring her offeringn, get initiated and begin even more training and going through tests and trials to achieve her goal of becoming a true Blade. We see how Mia grows form the beginning to the end and how she still held on to little pieces of her own humanity during the trials at the Mountain and with the other Acolytes. At the Mountain she and the others are trained into different arts by Hands; teachers if you will. Who teach them how to steal and not get caught, how to seduce and deceive, how to kill by weapon or poisons. Some of the lessons were harsh and cruel and so utterly delightful, it made that feral, dark part inside of me (and let's face it every human has that inside them) cackle with glee. Of course it wouldn't be a true Jay Kristoff book if there weren't pieces that would tear out your heart and have you screaming at the pages (for the record I did scream at the pages, rather dramatically I might add). And seeing as I'm trying my ver, very best to keep this review spoiler free, I won't go much into the details. What I can say is that there were two, maybe three major moments in the book that had me going : NOOOOOOOOOOOOOOOOOOOOOOOOOOOOOOOOOOOOOOOOOOOOOOOOOO, KRISTOFF YOU BASTARD!!!!!
I still cannot believe some of the plot twists that happened. One in particular had me re-reading the last 100 pages at least 5 times …… 5 times I tell you!!!! And I still can't exactly tell you what the easter eggs where that would reveal this when it came to pass in the end. I just can't believe, I didn't notice it when I read the book. I even suspected the wrong person, and I was soooooooooooooooo sure that person was it, and it wasn't. And omiimfigmdigmdjkmfgjdmkfjgmsgfjdms ….. ahem, sorry.
She raised an eyebrow, glanced at the shadowcat. "I wash plenty."
"…plienes was an elitist…"
"You mean a tosser."
"… continue…"
Now then, characters. I won't go too much into this, fearing I might say something that would spoil certain things in the book. But I loved Mia, she's complicated and yet simple in a way that just is so fantastic! She's definitely not what you'd expect from most girls her age and her growth in this book is amazing. Next up is Tric and OMG he's sooooo precious. Despite his temper problems when it comes to his heritage, he's really a nice guy (when he's not trying to kill you). He's so driven to become a Blade, because of what happened to him and the tortured soul bits in the book, tugged my heartstrings so bad, I just wanted to hug and squeeze him. Another character that was fantastically written was Ashlinn, man oh man, what I wouldn't give to be able to write someone like her. She's easy-going (or is she), smiles a lot (real or not?) and basically has best friend material written all over her (yeah right), oh hush Dark. There's one more character I would like to mention and that's Jessamine, she's a cunt from beginning to the end and I'm surprised she didn't get whacked during the story. But I'm still hoping she will in one of the other books that are yet to be written.
"…he really does not like you…" whispered Mister Kindly
"You're not helping!"
"… and what would help…?"
"Explain to me how we got into this stew!"
[…]
"… it is basically your fault…"
A few honorable mentions of characters are of course, the fabulous Cassius, the Lord of Blades and Goddess he's A-MA-ZING! And of the Hands Aalea, Solis, Mouser, Spiderkiller and of course the Revered Mother Drusilla herself. And one other character, that I think was so enigmatic that every move he made in the book, took me by surprise; the Acolyte Hush. There are many more characters, but I feel that those I mentioned are the ones that stuck with me most of all, because of the way they are.
"Nothing is where you start. Own nothing. Know nothing. Be nothing."
"Why would I want to do that?"
The old man crushed out his cigarillo on the boards between them.
His smile made her smile in return.
"Because you can do anything."
And I'm going to end my review here, because I feel my fingers itching to spoil something about the book and I can't let that happen, because people need to experience Nevernight by themselves and read what I read with their own eyes and make up their own opinions about it. As for me, this book is now officially one of my all time favourites and will be re-read many times over in the future. And I would recommend it to any. It's a book that you'll will never forget reading. A book that doesn't pussyfoot around death or sex for that matter (yes kiddies this book is definitely not for you). A book that will utterly and completely …..ruin you!