This book may be unsuitable for people under 17 years of age due to its use of sexual content, language, and/or violence.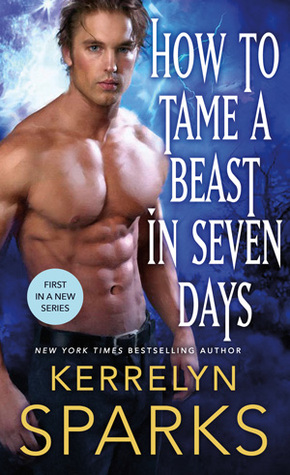 How to Tame a Beast in Seven Days
by
Kerrelyn Sparks
Series:
The Embraced #1
Published on
March 7th, 2017
by
St. Martin's Griffin
Genres:
New Adult
,
Fantasy
,
Romance
,
Retelling
Format:
eARC
Source:
Publisher
Amazon
|
B&N
|
BookDepository
|
Goodreads
Also by this author:
How to Tame a Beast in Seven Days (The Embraced, #1)
,
So I Married a Sorcerer (The Embraced, #2)
Luciana grew up on the Isle of Moon, hidden away because of her magical powers. But when her father arrives, he offers her a choice: remain on the island or return with him and marry the Beast of Benwick in order to save their legacy—and her father's life.

Lord Leofric, the Beast of Benwick, has not been touched since he was a child. Born with the power to harness lightning, he is a danger to everyone he touches. When he meets his betrothed, he expects a loveless, lonely marriage...until he discovers she's vastly more powerful than he realized. But is she strong enough to withstand his touch?

If they can survive, their love will alter the future of the kingdom. But will their extraordinary powers cost them everything?
I received this book for free from the publisher or author in exchange for an honest review.
This does not affect my opinion of the book or the content of my review.
I'm not really sure how to feel about this book to be honest.
HOW TO TAME A BEAST IN SEVEN DAYS wasn't exactly like I expected it to be. It was okay for a Beauty & the Beast re-telling and at the same time it wasn't.
Let me start by saying that I did like the actual story about the Embraced and how they are viewed by society. I thought the idea of the Embraced was clever and it has so many variables that will (hopefully) be shown in future books a lot more. So as it is the story mostly revolves around Luciana who is an Embraced and who's been left at a convent on the Isle of the Moon to hide her existence from the four kingdoms on the mainland, because for them the Embraced are an abomination because they are supposedly "blessed" by the twin moons Luna and Lessa when they "embrace". Hence the name Embraced. Luciana lives together with four other girls who are also Embraced. One night Luciana's father comes to the convent and presents Luciana with a choice. Leave with him to marry the Beast of Benwick and save his life or stay at the convent.
Now we all know Luciana goes with her dad and really up to that point I was very interested, because it all sounded fun and mysterious. Especially when Leo, the Beast of Benwick made his appearance. But my overal excitement faded as the pages started to dwindle and I got …. dare I say it, bored.
There I said it, I was bored after about 40% into the book and honestly I didn't really care much about the characters either after a while.
It all became so blah. It became one of those books that you've read a thousands times over, just the magic, setting and background and a few other things were different.
Even the romance was just so ….. meh. I didn't feel anything. You're supposed to feel something when you read about a romance. I felt nothing. And I hated it not feeling anything, oh and let's not forget the insta-love that it was.
Now, some books make the insta-love work and then I turn a blind eye to it. HOW TO TAME A BEAST IN SEVEN DAYS did a fairly good job of making me turn a blind eye, up to a point.
The one little highlight was at about 75% into the book, but since it would be considered a spoiler, I won't say much about it, just that I was kinda curious if Leo was right about the thing.
Having said all that, I can't really convince myself to go into more detail about the characters.
They were funny and fine, but got really boring the more I read.
Luciana is such a perfect example of the overused stereotype of a beautiful, virginal maiden who needs to be rescued yet doesn't need it at the same time.
Leo, while hot as hell (at least in my mind he is with the way the author describes him), isn't that much different from all the other Alpha Males I read about in other romance books.
The only one I found really interesting was Brody, but then again I have soft spot for peeps like him.
In truth, I'm disappointed. I had expected a little bit more from this book. But it didn't deliver, at least for me it didn't.
I'm also about 99.9% sure there will be a lot of readers out there who will love this book. So will I read any other book in the series? No, definitely not.
Do I recommend this book to others? Yes, yes I do. Why? Because I do believe that other readers might like it more than I did. As it stands, it's not a bad book and it's very well written.
It just wasn't for me.