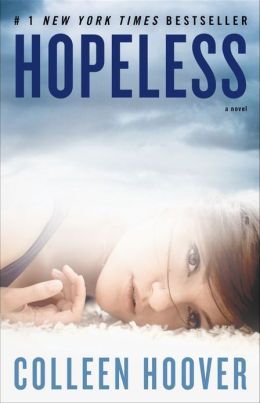 Hopeless
by
Colleen Hoover
Series:
Hopeless #1
Published on
December 12th, 2012
by
Atria Books
Genres:
Young Adult
,
Contemporary
,
Romance
Format:
Paperback
Source:
Purchased
Amazon
|
B&N
|
BookDepository
|
Goodreads
Also by this author:
This Girl
,
Hopeless
,
Slammed
,
Maybe Someday
,
Ugly Love
Sometimes discovering the truth can leave you more hopeless than believing the lies…

That's what seventeen-year-old Sky realizes after she meets Dean Holder. A guy with a reputation that rivals her own and an uncanny ability to invoke feelings in her she's never had before. He terrifies her and captivates her all in the span of just one encounter, and something about the way he makes her feel sparks buried memories from a past that she wishes could just stay buried.

Sky struggles to keep him at a distance knowing he's nothing but trouble, but Holder insists on learning everything about her. After finally caving to his unwavering pursuit, Sky soon finds that Holder isn't at all who he's been claiming to be. When the secrets he's been keeping are finally revealed, every single facet of Sky's life will change forever.
So Hopeless was recommended to me by my best friend Bieke. Now I'm sure you all know I'm not much of a Comtemporary fan and I have my reasons for that. Mostly it's just that I get disappointed with the story.
The same thing happened with Hopeless.
The story is about Sky, who has some serious issues, she makes out with a lot of guys along with her best friend Six. The problem is she doesn't feel anything when she makes out with guys, she just feels blissfully numb. She was home-schooled almost her whole life and now begged her mom to let her go to public high school. But then she has her own doubts about going when Six' application for studying abroad is approved and she'll spend the next six months in Italy, leaving Sky to face public high school all by herself. Once she gets to public high school she befriends Breckin, a gay Mormon (which I think was awesome, though I did have to look up what a Mormon was to be honest). Besides that it's the usual high school drama, Sky gets insulted every day by being called a "slut" because she makes out with a lot of guys. And then she meets Holder. Who, just like her, has a pretty bad reputation at school. But that doesn't stop her from getting to know him and from slowly falling in love with him. And even the dark secret he keeps from her, won't keep her from loving him.
So okay, in the spirit of not spoiling anything else, I won't talk much about the big twist in the book. I didn't think it was one of the most emotional and heart-breaking moments in the book. To find out something that terrible happend to you and then remembering the events themselves, I don't think I would have kept myself together like Sky did, yes she flipped out afterwards, but she's stronger than I took her for. And Holder, I feel so sorry for him, he felt guilty all those years and really he wouldn't have been able to do anything anyway, he was just a little boy when the " big terrible" happened to Sky.
But besides those moment and a select few others, the rest of the book, didn't feel all that special to me. Maybe I've been spoiled the last time because I've read some incredible books. But I just couldn't really get into the book like I usually do, which of course results in the 3,5 stars I'm giving this book.
I'm sure fans of Contemporary will love this book, but to me it was just a good book and that's all it is for me. I'm hoping any future book by Colleen Hoover I'll read will be better and hopefully surprise me. I'm just sad this one didn't.