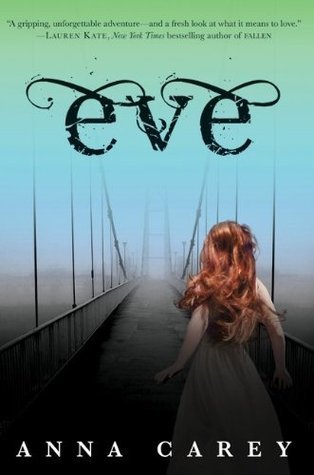 Eve
by
Anna Carey
Series:
Eve #1
Published on
October 4th, 2011
by
HarperCollins
Genres:
Young Adult
,
Dystopian
,
Romance
Format:
Paperback
Source:
Purchased
Amazon
|
B&N
|
BookDepository
|
Goodreads
Also by this author:
Once
Where do you go when nowhere is safe?

Sixteen years after a deadly virus wiped out most of Earth's population, the world is a perilous place. Eighteen-year-old Eve has never been beyond the heavily guarded perimeter of her school, where she and two hundred other orphaned girls have been promised a future as the teachers and artists of the New America. But the night before graduation, Eve learns the shocking truth about her school's real purpose and the horrifying fate that awaits her.

Fleeing the only home she's ever known, Eve sets off on a long, treacherous journey, searching for a place she can survive. Along the way she encounters Arden, her former rival from school, and Caleb, a rough, rebellious boy living in the wild. Separated from men her whole life, Eve has been taught to fear them, but Caleb slowly wins her trust... and her heart. He promises to protect her, but when soldiers begin hunting them, Eve must choose between true love and her life.

In this epic new series, Anna Carey imagines a future that is both beautiful and terrifying.
Okay so here goes, the first book I've read in months and I felt … nothing.
Absolutely nothing.
I didn't have much expectations when reading Eve, but I never expected it to be so … boring, I guess the word I could use. All right so let's get this review on the road, shall we?
The main character Eve, discovers that unlike what they have been told at the School, the girls who graduate will become nothing more then broodmares for the people in The New America. So on the night before graduation, she flees the School, completely unprepared for what she finds there.
Now the story itself is not bad at all, it's just that the way it's told (from Eve's POV), it just makes it flat out boring for me. I mean, Eve is not exactly a very relatable character in my eyes and she's waaaayyyyy to naive for my tastes. I mean, c'mon who never wonders why the "school staff" kept weighing them, what they ate,watched how much exercise they got, how their health was, … I mean c'mon, doesn't it seems kind of strange?
And another thing, there was so little world-building. Now in some cases, I don't mind this, but Eve really needed that world-building at least to show us a little about the world around the characters and we get so many references of the City of Sand, but never actually anything more then that. Even the dugout, where Eve and Arden take refuge with Caleb, isn't described much. I do however like how Leif was one spiteful son of a bitch. He's a real work of art and out of all the characters, I liked reading about him the most. Even if he was a mean, foul-temperend and back-stabbing asshole.
Now as for the Insta-Love. I can see why a lot of authors seem fond of it, but damnit, I'm getting tired of it! The story itself isn't so bad, so why ruin it what a crappy insta-love between Eve and Caleb? I got tired of hearing her moon over him in that weird, awkward, I-haven't-seen-a-man-in-years-and-have-been-brainwashed-about-how-life-actually-works, kind of way. It was annoying as hell and it made me wanna throw the book at the wall.
Now all that being said, the story wasn't bad, the characters were okay but not great and the insta-love sucked. So my rating for this book is 2.5 stars. Now I'm off to torture myself by finishing the 2 sequels to this book, since I have this damn masochistic policy of reading every book in a series/saga/trilogy.
Goddess help me.