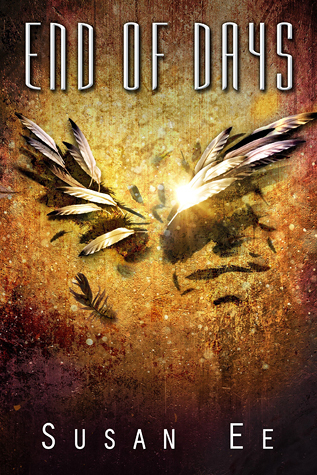 End of Days
by
Susan Ee
Series:
Penryn & the End of Days #3
Published on
May 12th, 2015
by
Skyscape
Genres:
Young Adult
,
Dystopian
,
Paranormal
,
Angels
Format:
Paperback
Source:
Purchased
Amazon
|
B&N
|
BookDepository
|
Goodreads
Also by this author:
Angelfall
,
World After
,
Angelfall
,
World After
,
End of Days
End of Days is the explosive conclusion to Susan Ee's bestselling Penryn & the End of Days trilogy.

After a daring escape from the angels, Penryn and Raffe are on the run. They're both desperate to find a doctor who can reverse the twisted changes inflicted by the angels on Raffe and Penryn's sister. As they set off in search of answers, a startling revelation about Raffe's past unleashes dark forces that threaten them all.

When the angels release an apocalyptic nightmare onto humans, both sides are set on a path toward war. As unlikely alliances form and strategies shift, who will emerge victorious? Forced to pick sides in the fight for control of the earthly realm, Raffe and Penryn must choose: Their own kind, or each other?
So I just finished End of Days and quite frankly, I'm kind of "meh" about it.
At first, I thought I would love it like I loved the first two books of this trilogy. But I didn't. Most of it, I think, was because it all felt so damned rushed. I mean, everything happened so fast, from the romance between Penryn and Raffe to the big battle at the end of it. There was so much and yet at the same time so little of everything.
I did enjoy Ee's writing style, just like I did the last two books and there were a couple of funny moments, especially with the twins that I really liked. But overal, the book wasn't what I had hoped it would be. Also a lot of things View Spoiler »like the fact that Raffe and Penryn somehow get transported through Beliel's memory into the Pit and then rescue the Watchers with little to no effort, after all the other hell that went on in the first two books? « Hide Spoiler Yeah, sure that's totally believable (please note the sarcasm here) and why did we get nada, zilch, nothing as explanation as to how all that even worked? There were just so many opportunities to be made with this book and it delivered very little in the end.
Don't even get me started on the characters. Did they grow? Yes. Did Raffe get more air time? Oh yes. Did Penryn accept that she needed to help the humans in the Resistance? Sure, she did.
Then what am I complaining about?
BECAUSE IT DOESN'T MAKE ANY SENSE!!!
That's why, I'm annoyed at the book and disappointed and a whole bunch of other things, that people really don't wanna know. I wish Susan Ee had taken her time with this book a little more. This is a great example of 2 books wrapped into 1. So much build-up and growth (that could have made this book epic) was left out. Even the romance barely got a chance to shine, before it was all like "happily ever after in a fucked up world."
Despite, all my ranting and despite all I said just now, End of Days isn't a bad book (and yes I do realize my review sounds like it's not, thank you so much for pointing that out. Here have a cookie *throws cookies*. In the end it was an easy read and despite its issues I did like some bits of it.
That's all I really want to say about this book. I do hope other people will like it more than I did, but for me it just didn't work out.