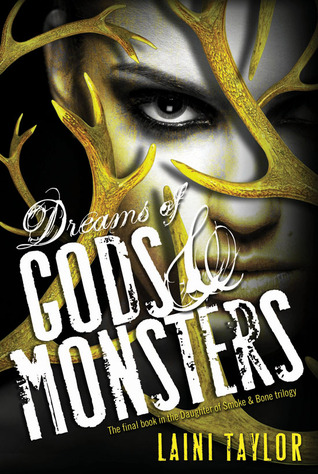 Dreams of Gods & Monsters
by
Laini Taylor
Series:
Daughter of Smoke & Bone #3
Published on
April 8th, 2014
by
Little Brown Books for Young Readers
Genres:
Young Adult
,
Fantasy
,
Romance
Format:
Hardcover
Source:
Purchased
Amazon
|
B&N
|
BookDepository
|
Goodreads
Also by this author:
Daughter of Smoke & Bone
,
Dreams of Gods & Monsters
,
Daughter of Smoke & Bone
,
Days of Blood & Starlight
,
Strange the Dreamer
By way of a staggering deception, Karou has taken control of the chimaera rebellion and is intent on steering its course away from dead-end vengeance. The future rests on her, if there can even be a future for the chimaera in war-ravaged Eretz.

Common enemy, common cause.

When Jael's brutal seraph army trespasses into the human world, the unthinkable becomes essential, and Karou and Akiva must ally their enemy armies against the threat. It is a twisted version of their long-ago dream, and they begin to hope that it might forge a way forward for their people.

And, perhaps, for themselves. Toward a new way of living, and maybe even love.

But there are bigger threats than Jael in the offing. A vicious queen is hunting Akiva, and, in the skies of Eretz ... something is happening. Massive stains are spreading like bruises from horizon to horizon; the great winged stormhunters are gathering as if summoned, ceaselessly circling, and a deep sense of wrong pervades the world.

What power can bruise the sky?

From the streets of Rome to the caves of the Kirin and beyond, humans, chimaera and seraphim will fight, strive, love, and die in an epic theater that transcends good and evil, right and wrong, friend and enemy.

At the very barriers of space and time, what do gods and monsters dream of? And does anything else matter?
When I started Dreams of Gods & Monsters I was hoping it would be just as good as the two books before it. But alas it wasn't the case. I'm not saying the book wasn't good, but I was disappointed. The first 60% of the book were awesome, filled with tension and mystery and action and just all around feels and after that it just went ….. splat …. down the rabbit hole it goes.
And it didn't help that the ending left me unsatisfied and wanting more. I was hoping we would got more explanation on the Stelians and of the Nithilam or the Beasts as the Faerers called them. But no, they're just mentioned briefly a few times during the course of the book and we don't even get so much as a glimpse of them or the epic battle between them and the "Godstars" which consists of a few Stelians, Karou and her friends, som Chimaera and Akiva of course.
As for the story itself I still believe it's beautiful, Laini Taylor has this way with words that I envy her for. She knows exactly how the spin her story around to make it awesome sauce gorgeous and addictive, making you read every page right until the very end.
And the characters, I still love them so much. Karou improved a lot from Days of Blood & Starlight and she and Akiva finally grow closer to each other again, their tidbits of romance spread across the book were so sweet. Akiva is still awesome, especially with those powers of his. Zuzanna and Mik were just adorably and I'm so glad Mik finally popped the question. And Eliza, oh I loved her, eventhough we don't really get to know her. As for the Stelians, Scarab, their Queen, in particular, I don't really know what to think of them. They didn't have enough "air time" in the book for me to feel anything for them. But Scarab sure didn't leave a very good first impression. I still believe she's a nasty piece of work, we just won't be able to see it.
All in all, because of the disappointing ending and a few other details which bugged me, I'm giving Dreams of Gods & Monsters, 3.5 STARS. It's still a good book and I'm sure other readers will be more than happy with this kind of ending, but I just wasn't.