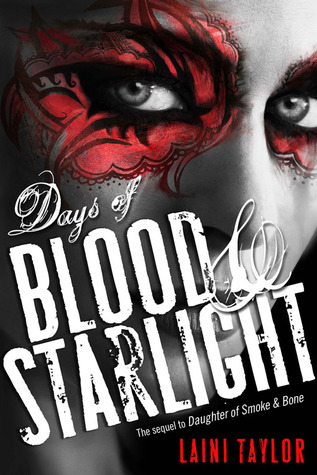 Days of Blood & Starlight
by
Laini Taylor
Series:
Daughter of Smoke & Bone #2
Published on
November 6th, 2012
by
Little Brown Books for Young Readers
Genres:
Young Adult
,
Fantasy
,
Romance
Format:
Hardcover
Source:
Purchased
Amazon
|
B&N
|
BookDepository
|
Goodreads
Also by this author:
Daughter of Smoke & Bone
,
Dreams of Gods & Monsters
,
Daughter of Smoke & Bone
,
Dreams of Gods & Monsters
,
Strange the Dreamer
Once upon a time, an angel and a devil fell in love and dared to imagine a world free of bloodshed and war.

This is not that world.

Art student and monster's apprentice Karou finally has the answers she has always sought. She knows who she is—and what she is. But with this knowledge comes another truth she would give anything to undo: She loved the enemy and he betrayed her, and a world suffered for it.

In this stunning sequel to the highly acclaimed Daughter of Smoke & Bone, Karou must decide how far she'll go to avenge her people. Filled with heartbreak and beauty, secrets and impossible choices, Days of Blood & Starlight finds Karou and Akiva on opposing sides as an age-old war stirs back to life.

While Karou and her allies build a monstrous army in a land of dust and starlight, Akiva wages a different sort of battle: a battle for redemption. For hope.

But can any hope be salvaged from the ashes of their broken dream?

"…Once upon a time, an angel and a devil held a wishbone between them.
And its snap split the world in two…"
Karou has returned to the chimaera and being the new resurrectionist, she believes she is doing the right thing. How could she not after finding out the truth of what Akiva had done to her family. He had murdered them. The war has turned for the worse and as things progress Karou realizes that doing Thiago's bidding and pushing away Akiva, might not be the way for things to end.
All right, so I was completely mesmerized by this book. I loved DoSaB but this one, is just as good in my eyes and I'm so glad I started this trilogy! But I also have to admit that I was annoyed with Karou for about 70% of the book, especially the way she treated Akiva. The story in itself was amazing of course, Taylor's writing is just as awesome and as descriptive as the previous one. Also I loved the plot development a lot. We learn quite a few things about the chimaera and the seraphim. I wasn't really happy with the ending because it ended in a cliffhanger again and I just can't wait to start Dreams of Gods & Monsters, just to see how everything ends.
As for the characters, like I said I was annoyed at Karou's meekish, sullen and foolish atitud for about 70% of the book. Akiva, I still love him and he's still swoon-worthy and God I hope Karou gets back to her senses and just forgives him, like she should. And YAY Issa is back!!!! I'm so glad, to bad it wasn't Brimstone, I really loved that guy, oh well beggar's can't be choosers I guess.
And Thiago and Ten, god how I HATED those two! They're just awful Chimaera. And I'm glad they're both gone right now, too bad the same can't be said about Jael, Akiva's uncle and now (unfortunately) the emperor of the Seraphim.
Now I'm off to read Dreams of Gods & Monsters, so I can finally read how it will all end.