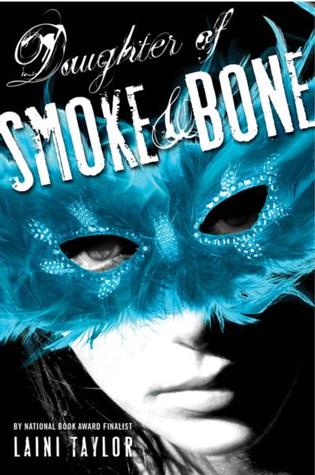 Daughter of Smoke & Bone
by
Laini Taylor
Series:
Daughter of Smoke & Bone #1
Published on
June 5th, 2012
by
Little Brown Books for Young Readers
Genres:
Young Adult
,
Fantasy
,
Romance
Format:
Hardcover
Source:
Purchased
Amazon
|
B&N
|
BookDepository
|
Goodreads
Also by this author:
Daughter of Smoke & Bone
,
Dreams of Gods & Monsters
,
Days of Blood & Starlight
,
Dreams of Gods & Monsters
,
Strange the Dreamer
Around the world, black hand prints are appearing on doorways, scorched there by winged strangers who have crept through a slit in the sky.

In a dark and dusty shop, a devil's supply of human teeth grows dangerously low.

And in the tangled lanes of Prague, a young art student is about to be caught up in a brutal otherworldly war.

Meet Karou. She fills her sketchbooks with monsters that may or may not be real, she's prone to disappearing on mysterious "errands", she speaks many languages - not all of them human - and her bright blue hair actually grows out of her head that color. Who is she? That is the question that haunts her, and she's about to find out.

When beautiful, haunted Akiva fixes fiery eyes on her in an alley in Marrakesh, the result is blood and starlight, secrets unveiled, and a star-crossed love whose roots drink deep of a violent past. But will Karou live to regret learning the truth about herself?

"She had been innocent once, a little girl playing with feathers on the floor of a devil's lair. She wasn't innocent now …"
Karou is an art student in Prague with an unusual side job. She does errands for the chimaera Brimstone, a being partly human, partly animal. And what do those errands entail? Collecting teeth. All kinds of teeth to be honest, from animal teeth to human teeth.
Karou has always wondered why Brimstone needs those teeth and her curiosity brings her more than she bargained for. And everything gets even stranger when this gorgeous Angelcatches her collecting teeth and keeps coming back to her. Little does Karou realize that this Angel is far more dangerous than she thinks and that she might find out more about herself than she bargained for.
Okay, I have to say that I just adored this book!!! It was so much more awesome then I ever thought possible!! My best friend, Bee, kept bugging me to read it and now I certainly see why, it's awesome and inventive and so Original. Laini Taylor is a genius!
The story's writing style and the way Taylor describes the chimaera and the Seraphim and Eretz is just amazing, not to mention how she creates an almost flawless storyline and makes me fall in love with each and every character, all for very different reasons.
Karou is just so strong willed, but also very curious (not that I blame her) and her ability to be so artistic is something I envy. I can't draw to save my life! And then there's Akiva, oh man I just simply adore him. I couldn't stop swooning after we found out just how he and Karou were connected and how much he loved her. I usually am not one for insta-love kind of relationships, but Karou and Akiva had a really good reason for their immediate attraction to each other.
I won't spoil anything by saying why, but wow, just wow, it's awesome!
I cannot wait to start Days of Blood and Starlight, because I really need to know what happened to Brimstone and Issa and Tigra and Yasri and of course what's going to happen next with the war between Seraphim and chimaera.