This book may be unsuitable for people under 17 years of age due to its use of sexual content, language, and/or violence.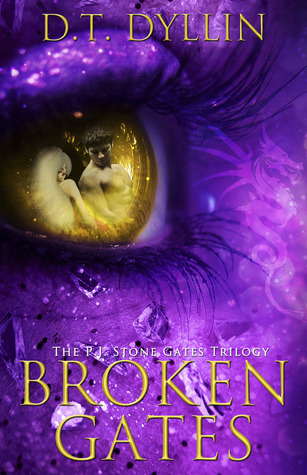 Broken Gates
by
D.T. Dyllin
Series:
P.J. Stone Gates #2
Published on
May 24th, 2013
by
Dragonfairy Press
Genres:
New Adult
,
Paranormal
,
Romance
Format:
eBook
Source:
Author
Amazon
|
B&N
|
BookDepository
|
Goodreads
Also by this author:
Kat Scratch Fever
,
Kat-napped
,
Open Gates
,
Hidden Gates
,
Open Gates
.J. Stone is a Seer who saw too little, too late.

In the past, her biggest worries were boys and school—but war has a way of changing things. Now, the alien Riders are trying to overrun the world. As the last of their kind, P.J. and her friends must find a way to save humanity before there's nothing left to save.

After choosing a mate, P.J. hoped she'd have time to enjoy her love life. But with everything changing so quickly and major secrets revealed, who knows what the future will bring?
I received this book for free from the publisher or author in exchange for an honest review.
This does not affect my opinion of the book or the content of my review.

ARE YOU 'EFFING KIDDING ME?????
OMG D.T. how the hell could you end the book like that?! That's just not fair and it's mean, oh so mean!!!!
This book blew my mind from the first page down to the last and I gotta say it was one hell of a ride reading it. I laughed, cried, squealed and fumed throughout the book and I would have finished it last night, if not for the fact that I had to get up at 04.45 in the morning to go to work; But daaaaaaaaaaamn this book was INCREDIBLE!!! I mean the story was awesome before but now it just so much more and I enjoyed the fact that we got to see little sneak peeks from behind the scenes of the Riders. And I can't believe how many people die in this book or the drama that happened all over! God it was amazing! I don't have any other words for it.
And I know people are gonna rip me to shreds over this, but YES!!!! The ending of the book was tragic and dramatic and all sorts of awesome but I am so glad there is no more Bryn to stand in the way of some Khol/P.J. Love. I know I'm cruel and mean, but I couldn't help myself I was just soooooo relieved. Is that bad? I think it's bad, at least that's what certain people tell me. But I don't care, I'm just glad that there's gonna be some Khol/P.J. Love now and I can't wait to start reading Open Gates (which I will after I finish this review, because I've got an ARC copy of it and I'm dying to know what happens next).
So I don't think I need to tell you guys how awesome I think the characters are, right? I just adore P.. she's become so strong and grown so much throughout the story and now with some things that were revealed in the story – and no, I'm not telling you what those things are – she's become badass as well! And Khol – swoons – really people, do I even need to say more? It's been such a long time since I actually loved a male character from a book as much as I love Khol, but he's just special that way. He wormed his way into my heart and made it his home. I also liked how Jenna, Jeremy, Bryn, Drake and Macon were portrayed in this book. There is so much going on between all these and the thing with Drake? I did NOT see that coming. And I am happy to report that my gut feeling of Nala was right, she's a nasty ass [bleep].
Well I'm done ranting now, I can't say anymore without me threatening to spoil the book for everyone, so I'm gonna leave at this and avoid spoiling anything or revealing to much. So 5 STARS for this incredible sequel and now I'm off to read Open Gates.