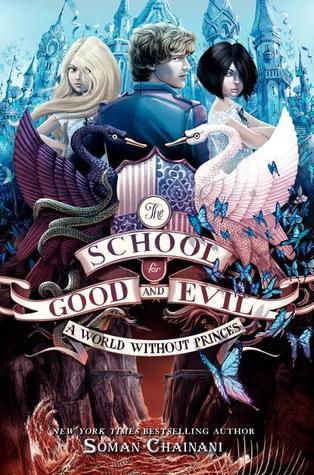 A World Without Princes
by
Soman Chainani
Series:
The School for Good and Evil #2
Published on
April 15th, 2014
by
HarperCollins
Genres:
Middle Grade
,
Fantasy
Format:
Paperback
Source:
Purchased
Amazon
|
B&N
|
BookDepository
|
Goodreads
Also by this author:
The School for Good and Evil
,
The School for Good and Evil
,
The Last Ever After
After saving themselves and their fellow students from a life pitched against one another, Sophie and Agatha are back home again, living happily ever after. But life isn't exactly a fairytale. When Agatha secretly wishes she'd chosen a different happy ending with Prince Tedros, the gates to the School for Good and Evil open once again. But Good and Evil are no longer enemies and Princes and Princesses may not be what they seem, as new bonds form and old ones shatter.
A World Without Princes was so much fun!! I don't care what everyone else says, I loved this book and I'm looking forward to the third book!
A World Without Princes, Sophie and Agatha returned back to their village and are now hailed as somewhat of heroes for escaping the School Master and finding their way back home. However Sophie is not happy with her father getting married to the widow Honora and unconsciously makes a wish, and at the wedding it's Agatha as well who make a wish. And then suddenly the village is attacked, and their attackers want Sophie. And when Agatha tries to save Sophie, both girls end up back in The School for Good and Evil, only the school is now divided between Boys and Girls. Because when they returned back to their village, their fairy tale got the wrong ending, with the prince being shunned by Agatha in favor of Sophie. Leaving the world now with Princesses who believe they don't need Princes. And Princes who feel it's all the fault of Sophie the Witch and they all want to kill her.
Okay so, I'm gonna stop right there or I'm going to keep talking about the story and ruin it for future readers and that's my intention. Needless to say A World Without Princes is just as fun and awesome as The School for Good and Evil. Does the book have its flaws? Yes, it does. But it's still a great book to read when you feel like reading something light, that's not to heavy on character development or world building.
The characters, well like I said there isn't much character development, but I still like all of them, except for Sophie, I despise Sophie because I think she's the worst thing that ever happened to Agatha, even though she doesn't see it until it's too late. And I wish Agatha hadn't been so naive when it comes to Sophie, it she hadn't been, it would have spared her a lot of heartache and trouble. As for Evelyn, I hated her the moment we met her, she's the new Dean for the School for Girls.
The one thing that bothered me a little was the way Tedros acted sometimes during the book and how naive Agatha was, those were the only two downsides in the book for me. Hence the 4,5 stars for A World Without Princes. And now I will eagerly await the release of the last book in Soman Chainani's trilogy.