This book may be unsuitable for people under 17 years of age due to its use of sexual content, language, and/or violence.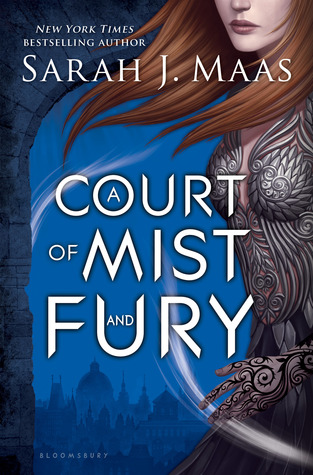 A Court of Mist & Fury
by
Sarah J. Maas
Series:
A Court of Thorns & Roses #2
Published on
May 3rd, 2016
by
Bloomsbury Publishing
Genres:
New Adult
,
Fantasy
Format:
Hardcover
Source:
Purchased
Amazon
|
B&N
|
BookDepository
|
Goodreads
Also by this author:
Throne of Glass
,
Crown of Midnight
,
Throne of Glass
,
Crown of Midnight
,
Heir of Fire
Feyre survived Amarantha's clutches to return to the Spring Court—but at a steep cost. Though she now has the powers of the High Fae, her heart remains human, and it can't forget the terrible deeds she performed to save Tamlin's people.

Nor has Feyre forgotten her bargain with Rhysand, High Lord of the feared Night Court. As Feyre navigates its dark web of politics, passion, and dazzling power, a greater evil looms—and she might be key to stopping it. But only if she can harness her harrowing gifts, heal her fractured soul, and decide how she wishes to shape her future—and the future of a world cleaved in two.

With more than a million copies sold of her beloved Throne of Glass series, Sarah J. Maas's masterful storytelling brings this second book in her seductive and action-packed series to new heights.

OH MOTHER OF ALL THAT'S BOOKISH!!!!! Why did you do that? Why, Sarah, whyyyyyyyyyyyyyyyyyyyyyyyyyyyyyyyyyyyy??????
This book has the most annoying, wonderful and nerve-wrecking cliffhanger …. EVER!!!!
I can't believe I have to wait another ENTIRE year before the third book comes out. I just can't believe it!
But to be honest I don't think I can add anymore to the greatness fo this book, because so many others have done it before me. I can just say that this book left me breathless and swooning, sighing, crying and all those things. Once I picked it up, I just couldn't put it down, I stayed up so late that I barely had any sleep before beginning my morning shift at work. I was a zombie, but it was sooooooooooooooooooooooooooooooooooo worth it. It was worth being cranky and sleepy all day, because this book is just OMFG!
Damn, I can't even find the right words anymore.
I'll start with how wonderful and electrifying the world of Prythian has become. In ACOMAF we see so much more of the world. Different cities, different court politics. The strange and unearthly creatures that live there are shown to us in a way we never saw in ACOTAR. Every description, every move our characters make, is so delicately woven into this intriguing game that is being played out behind the scenes and right in our faces.
We see characters, so many new characters and I loved each and every one of them. And the old ones; Feyre, Lucian, Tamlin and never forgetting that delicious male Rhysand, have grown so much. We see new aspects of them. Some of which made me want to scream and shake them until they got back to their senses. Some made me dislike them so intensely that I don't think I'll ever get over it again. And Rhysand, oh Cauldron, boil me. He's so much more then what we saw in ACOTAR, so much more. He has layers upon layers. He's a mystery and an open book. He's never what you expect him to be. And oh Goddess, help me because I'm falling into a pit of sweet, sweet darkness and night, that I never want to climb out of.
This book wrecked me. Wrecked me to my core and I. Loved. Every. Second. Of. It.
Which is why I'm currently both pissed and excited about the cliffhanger, Sarah left us with. Pissed because shit, I don't think my heart can take waiting another year for the third book. And excited, because I know the best is yet to come. I know hell will break loose and I will revel and drown in it. And it will be GLORIOUS!!!!
Also just in case, I didn't make it clear enough in my review: #TeamRhys FOREVER!!!!!!