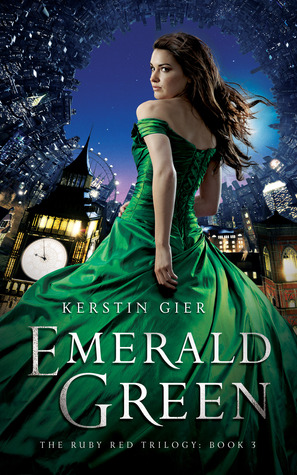 Emerald Green
by
Kerstin Gier
Series:
Precious Stone Trilogy #3
Published on
October 8th, 2013
by
Henry Holt & Co.
Genres:
Young Adult
,
Fantasy
,
Romance
Format:
Paperback
Source:
Purchased
Amazon
|
B&N
|
BookDepository
|
Goodreads
Also by this author:
Ruby Red
,
Sapphire Blue
Gwen has a destiny to fulfill, but no one will tell her what it is. She's only recently learned that she is the Ruby, the final member of the time-traveling Circle of Twelve, and since then nothing has been going right.

She suspects the founder of the Circle, Count Saint-German, is up to something nefarious, but nobody will believe her. And she's just learned that her charming time-traveling partner, Gideon, has probably been using her all along.

Emerald Green is the stunning conclusion to Kerstin Gier's Ruby Red Trilogy, picking up where Sapphire Blue left off, reaching new heights of intrigue and romance as Gwen finally uncovers the secrets of the time-traveling society and learns her fate.
You know that satisfied feeling you get when you finish a trilogy/saga/series?
…
I don't have that. -_-
Instead I feel relieved this trilogy is finally, finally over and that I can now start reading something else, because Goddess I really need a change of book.
I can't say Emerald Green was horrible. Because as I said in my last two reviews, of the previous books, I liked the story and the ideas and the plot. But I just could not connect at all with the characters and that didn't change in Emerald Green either.
Gwyneth, Gideon, and … well basically the majority of the characters were just annoying and I nearly cried in relief when I read the last few pages and realized I would never have to read from Gwyneth's annoying perspective again. On another note, I still like Lesley and Xemerius and Raphael (Gideon's little brother) too I suppose. I mean he wasn't all that bad. Just a regular teenager and not annoying.
Also, I knew there was something seriously fishy about mr.Whitman, I just knew it!! And I was proven right in the end of Emeral Green, though it did come as a surpise just how he was involved in everything. Also the Count finally got what he deserved and I hope he rots in the deepest part of hell, for everything he's done!
Now all that is said and done, there isn't much else I can say about Emerald Green that would be useful for anyone future readers, since they most likely read the previous books as well to get to this point. In anyway, the plot and story were good, the characters were not.
That's my opinion in a nuttshell and now I'm off to read the next book from my huge book pile.