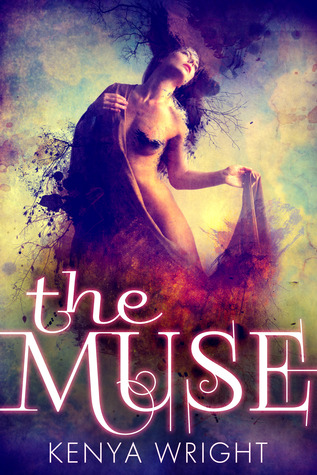 The Muse
by
Kenya Wright
Series:
Dark Art Mystery #1
Published on
October 12th, 2013
by
Amazon KDP
Genres:
Adult
,
Contemporary
,
Mystery
,
Romance
Format:
eBook
Source:
Author
Amazon
|
Goodreads
"What happens when Death is the Muse?"

On the first day of her nude modeling job, Elle deals with a corpse, an eccentric dark artist, his sexy brother, and a grandmother that can see someone's future by just touching their hands. Although these crazy distractions shove her on edge, it's just what she needs to mend her battered heart and forget about her ex-boyfriend. Besides, she does get to live in their castle for the whole three months.

Everything seems magical and perfect. Until more dead bodies are discovered.

There's something going on at night, right in the artist's garden. Under the moonlight, young women are being cut and sliced, and no one has a clue to who's doing it. And the more Elle is around the weird family in the castle, the more she realizes that they all are hiding secrets.

The Muse is a Sexy Multicultural Romance involving Love, Art & a Deadly Mystery
I received this book for free from the publisher or author in exchange for an honest review.
This does not affect my opinion of the book or the content of my review.
So I received this book to read a while back and I've finally gotten around to read it and I must say that while interesting and a little disturbing at times, the book couldn't hold my attention all the way through. I had trouble reading it, despite the fact that it's very nicely written, with great descriptions and some really great characters too.
The story is actually quite nice and we start with meeting Elle who has just come out an abusive relationship and wants to start over. To do that, she goes to the Castillo castle on the artist's invitation, where the artist Hex lives with his brother Alvarez and their Grandmother and she sees a body bag being carried out and despite her uneasiness she still goes in to meet Hex and eventually becomes a model for him, for his new art.
For the sake of not spoiling anything, I'm gonna leave it at that for the story, as for the characters. I liked them especially Hex, because well c'mon who doesn't love a tortured artist with a love for the macabre? But other then that, the characters didn't leave that much of an impression on me, even though I DID like them, I just couldn't love-love them like I normally do when I read books.
So my conclusion, it was an okay book and despite my opinion I do recommend this book to all fans who love a good mystery romance.