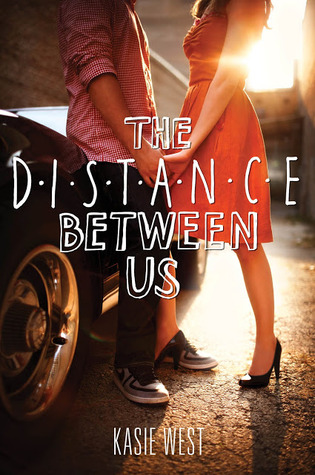 The Distance Between Us
by
Kasie West
Published on
July 2nd, 2013
by
HarperTeen
Genres:
Young Adult
,
Contemporary
Format:
Paperback
Source:
Gifted
Amazon
|
B&N
|
BookDepository
|
Goodreads
Also by this author:
Pivot Point
,
The Distance Between Us
,
On the Fence
,
On the Fence
,
The Fill-In Boyfriend
Seventeen-year-old Caymen Meyers studies the rich like her own personal science experiment, and after years of observation she's pretty sure they're only good for one thing—spending money on useless stuff, like the porcelain dolls in her mother's shop.

So when Xander Spence walks into the store to pick up a doll for his grandmother, it only takes one glance for Caymen to figure out he's oozing rich. Despite his charming ways and that he's one of the first people who actually gets her, she's smart enough to know his interest won't last. Because if there's one thing she's learned from her mother's warnings, it's that the rich have a short attention span. But Xander keeps coming around, despite her best efforts to scare him off. And much to her dismay, she's beginning to enjoy his company.

She knows her mom can't find out—she wouldn't approve. She'd much rather Caymen hang out with the local rocker who hasn't been raised by money. But just when Xander's attention and loyalty are about to convince Caymen that being rich isn't a character flaw, she finds out that money is a much bigger part of their relationship than she'd ever realized. And that Xander's not the only one she should've been worried about.

All right, so I finished my first Contemporary on my Summer Challenge list. And I must admit that I enjoyed it.
The Distance Between Us is about Caymen, who lives with her mom above their doll store in a tiny apartment and she's learned from her mother that rich people can't be trusted. Enter Xander, who comes into her life and shows her exactly how wrong her mom is and slowly but surely makes Caymen fall in love with him. And as their relationship progresses, Caymen finds out there a quite a few secrets her mom forgot to tell her.
I really liked Caymen, it was nice to be able to relate to a character as much as her. And I just love her sarcasm! I can't help myself, sarcastic people are just funny, even though not everyone can appreciate it. As for Xander, he's a really nice guy, despite the fact that he's rich, and he really cares about Caymen and some of the things he does are sooooo supersweet! Of course we have other characters too like Caymen's mom Susan, who well she's a nice enough person but she's really proud too and I believe she should've told Caymen what was going on from the beginning. The we also have Skye (Caymen's best friend) and her boyfriend Henry, who plays in a band. Those two are just cute together, they make me laugh or smile every time I read about them.
That being said, I loved this book, so I'm giving it 4 STARS.