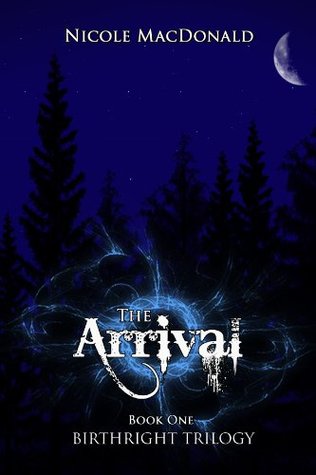 The Arrival
by
Nicole MacDonald
Series:
BirthRight Trilogy #1
Published on
December 22nd, 2010
by
Smashwords
Genres:
New Adult
,
Fantasy
,
Romance
Format:
eBook
Source:
Netgalley
Amazon
|
B&N
|
BookDepository
|
Goodreads
Cat, Kassie, Sian and Loi are anything but damsels in distress.

Fed up with a lack of decent male specimens they cast a love spell in the hopes of finding their soul-mates. And inadvertently land themselves on another planet. Oops.

The Arrival, follows the girls' adventures as they stumble through a foreign and often hostile world where humans are NOT at the top of the food chain.

Friendships are forged and love teeters on the horizon while the threat of civil war looms thanks to the girls' very unexpected 'gifts'.

Will the girls master these gifts in time to survive a war in which, not only are they the ultimate weapons, but also the ultimate prize?
I received this book for free from the publisher or author in exchange for an honest review.
This does not affect my opinion of the book or the content of my review.
This won't be a long review, because there is very little I have to say about this book.
Despite the fact that the story of this book was actually pretty great, I could not get over the many, many, many POV changes that occured during every chapter. It's quite hard to read a book that shifts it's POV from one paragraph to the other. Constantly switching First POV to Third POV.
I think personally, the book would have been much better if the author had either stuck to one POV or at least used one POV change per chapter, that would have been nicer to read.
Also it was a bit annoying to read the constant lengthy descriptions whenever one of the girls changed clothes. And it wasn't easy remembering their names or the many nicknames, especially when the boys came into play and all the other characters. It just felt a bit too much at times.
So, unfortunately for all these reasons I couldn't award this book more then 2 stars. I'm sure however that other people will enjoy it, but this one just wasn't for me.