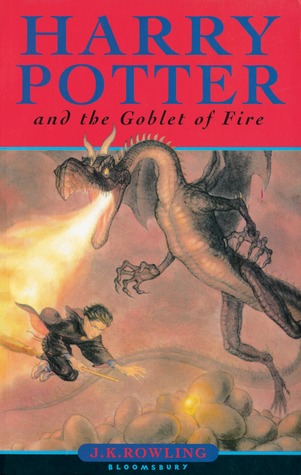 Harry Potter and the Goblet of Fire
by
J.K. Rowling
Series:
Harry Potter #4
Published on
July 8th, 2000
by
Bloomsbury Publishing
Genres:
Young Adult
,
Fantasy
Format:
Hardcover
Source:
Purchased
Amazon
|
B&N
|
BookDepository
|
Goodreads
Also by this author:
Harry Potter and the Philosopher's Stone
,
Harry Potter and the Chamber of Secrets
,
Harry Potter and the Prisoner of Azkaban
,
Harry Potter and the Goblet of Fire
,
Harry Potter and the Order of the Phoenix
You have in your hands the pivotal fourth novel in the seven part tale of Harry Potter's training as a wizard and his coming of age. Harry wants to get away from the pernicious Dursleys and go to the International Quidditch Cup with Hermione, Ron, and the Weasleys. He wants to dream about Cho Chang, his crush (and maybe do more than dream). He wants to find out about the mysterious event that's supposed to take place at the Hogwarts this year, an event involving two other rival schools of magic, and a competition that hasn't happened in a hundred years. He wants to be a normal, fourteen year old wizard. Unfortunately for Harry Potter, he's not normal - even by wizarding standards.

And in his case, different can be deadly.

Fourteen-year-old Harry Potter joins the Weasleys at the Quidditch World Cup, then enters his fourth year at Hogwarts Academy where he is mysteriously entered in an unusual contest that challenges his wizarding skills, friendships and character, amid signs that an old enemy is growing stronger.

When reading Harry Potter and the Goblet of Fire, I still get that familiar thrill I had when I first read it. I never imagined that it would become so exciting and so much darker than the previous 3 books.
And I'd forgotten just how much details the movie left out or the things they changed to fit the movie.
And I still get chills when I read about Voldemort's resurrection. That ritual and the cauldron and the ugly baby form he has at the, plus the graveyard background, brrr …. still creepy after all these years.
Anyway there's isn't much else to say about HP GoF that hasn't been said before, it a great way to start the darker times of the series. And it's awesome to see the characters slowly growing up into teenagers and young adults.
So all in all, it's still as much of an amazing book as the first time I've read it, all those years ago.