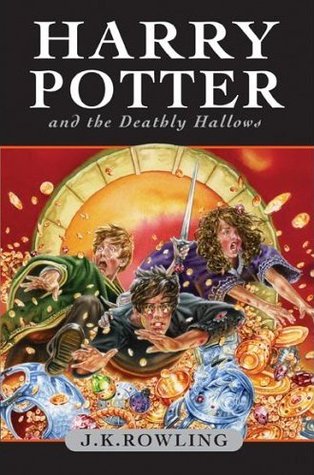 Harry Potter and the Deathly Hallows
by
J.K. Rowling
Series:
Harry Potter #7
Published on
July 31st, 2007
by
Bloomsbury Publishing
Genres:
Young Adult
,
Fantasy
Format:
Hardcover
Source:
Purchased
Amazon
|
B&N
|
BookDepository
|
Goodreads
Also by this author:
Harry Potter and the Philosopher's Stone
,
Harry Potter and the Chamber of Secrets
,
Harry Potter and the Prisoner of Azkaban
,
Harry Potter and the Goblet of Fire
,
Harry Potter and the Order of the Phoenix
Harry has been burdened with a dark, dangerous and seemingly impossible task: that of locating and destroying Voldemort's remaining Horcruxes. Never has Harry felt so alone, or faced a future so full of shadows. But Harry must somehow find within himself the strength to complete the task he has been given. He must leave the warmth, safety and companionship of The Burrow and follow without fear or hesitation the inexorable path laid out for him.

In this final, seventh instalment of the Harry Potter series, J. K. Rowling unveils in spectacular fashion the answers to the many questions that have been so eagerly awaited. The spellbinding, richly woven narrative, which plunges, twists and turns at a breathtaking pace, confirms the author as a mistress of storytelling, whose books will be read, reread and read again.

The last and final book of the HP series and Rowling couldn't have made it more heart-breaking, action filled or explosive as it is now.
The Deathly Hallows is most definitely my favourite book in the entire series, because it was written in such an amazing way and it answered ALL the questions I ever had. Also I loved the final battle between Voldemort and Harry in the book a lot more than I did in the movie.
I loved the speech Harry gave Voldemort right before he killed him and also the deaths of Fred, Remus and Tonks hit me a lot harder in the book than they did in the movie, especially because we actually read about Fred getting killed while fighting alongside Percy.
So yeah, the book is still WAAAYYYYY better than the movie because of the many details that the movie just doesn't have and also because the book gives me so many feels while reading, something the movie didn't achive in quite the same way.
Anyway, Harry Potter and the Deathly Hallows is the most perfect ending to an almost perfect series and you can bet that I'll keep re-reading these books forever and ever.