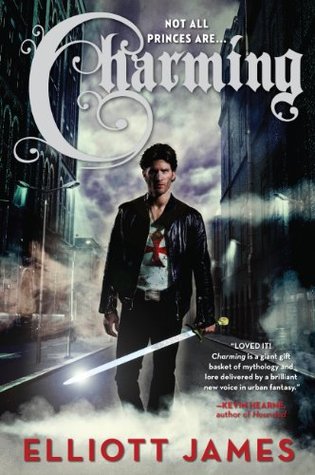 Charming
by
Elliott James
Series:
Pax Arcana #1
Published on
September 24th, 2013
by
Orbit
Genres:
New Adult
,
Urban Fantasy
Format:
eARC
Source:
Netgalley
Amazon
|
B&N
|
BookDepository
|
Goodreads
John Charming isn't your average Prince...

He comes from a line of Charmings — an illustrious family of dragon slayers, witch-finders and killers dating back to before the fall of Rome. Trained by a modern day version of the Knights Templar, monster hunters who have updated their methods from chainmail and crossbows to kevlar and shotguns, he was one of the best. That is — until he became the abomination the Knights were sworn to hunt.

That was a lifetime ago. Now, he tends bar under an assumed name in rural Virginia and leads a peaceful, quiet life. One that shouldn't change just because a vampire and a blonde walked into his bar... Right?
I received this book for free from the publisher or author in exchange for an honest review.
This does not affect my opinion of the book or the content of my review.
So Charming is about a man named John Charming, a Knight and a half-blood werewolf. Because of this he has been chased away and hunted by other Knights because they think he's an abomination. Currently he's living in Clayburg where he meets Sig, a Valkyrie and together with her and other characters he discovers that a Vampire is slowly killing off people in his city. And so begins their investigation
I'll start on the characters now. I rather like the main character John Charming, because he's a sarcastic and joking kind of wise ass, who you either love or hate. Then we have Sig, I don't really know what to think of her, one moment I think she's okay and the other moment she just makes me want to hit her. Her entire persona is all over the place through the entire book. I did like Molly though, there is just something about her that made me like her instantly. I hated Dvornik and Parth. Dvornik because he's a mean, cruel and back-stabbing son of a bitch and he just makes me wanna shoot him in the head. And Prath, gah! He's so annoying and unlikable and he's the biggest hypocrite I've ever met!
To be honest, it's not a bad book, but I have to admit there were a lot of boring parts which made me give it 3 stars. The story is reasonably good with nice characters and a nice pace as well. Also the many info dumps in the book got quite tedious and slowed down the story somewhat in my opinion. But other then that it wasn't a bad read.