This book may be unsuitable for people under 17 years of age due to its use of sexual content, language, and/or violence.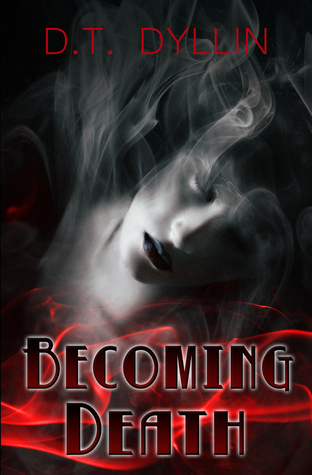 Becoming Death
by
D.T. Dyllin
Series:
Death Trilogy #2
Published on
October 31st, 2014
by
Tik Tok Press
Genres:
Adult
,
Erotica
,
Paranormal
Format:
eARC
Source:
Author
Amazon
|
B&N
|
BookDepository
|
Goodreads
Also by this author:
Kat Scratch Fever
,
Kat-napped
,
Open Gates
,
Hidden Gates
,
Broken Gates
Samantha's tired of being the pawn in a game she didn't realize she was playing. She's determined to discover the answers she needs to save Austin, and the strength to set them both free. But when all the players are finally revealed, Sam's left to wonder... Will love conquer all, or will death consume everything in its path?
I received this book for free from the publisher or author in exchange for an honest review.
This does not affect my opinion of the book or the content of my review.

Becoming Death is the perfect ending to this deliciously dark trilogy. I was addicted to the story from beginning to end.
Now because this book hasn't been released yet I won't say much on the story itself. Just that we see a lot of sexyness and hotness going on between Austin and Samantha but we also see their struggle to survive and how they handle their "powers" and their addiction to death and also how they handle all the revelations and people from the past that come back to haunt them again.
The characters themselves were just as smokin' hot, kind, insane, deadly and all other kinds of emotions all at the same time. Samantha and Austin are just so perfectly matched for each other, even their personalities match perfectly. As for Nixo; that man is i-n-s-a-n-e, no two ways about it. His obsession with Samantha just about controls everything, it consumes him completely. Not to mention the other "special" character, boy, what a psycho he's become, seriously, he freaked me out!
All in all this book will give you everything you expect for an ending to a great and darkly sexy trilogy.