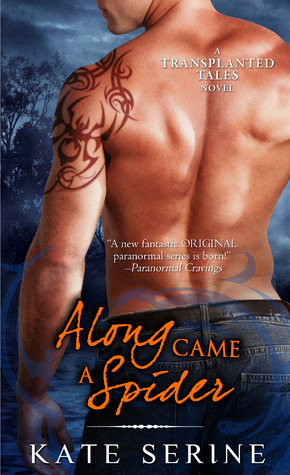 Along Came a Spider
by
Kate SeRine
Series:
Transplanted Tales #3
Published on
August 1st, 2013
by
Kensington Books
Genres:
New Adult
,
Paranormal
,
Urban Fantasy
Format:
eBook
Source:
Netgalley
Amazon
|
B&N
|
BookDepository
|
Goodreads
Along came a spider…

When Trish Muffet is attacked at a grisly crime scene, the last person she expects to come to her rescue is Nicky "Little Boy" Blue. But since walking away from everything two years before, Nicky's been doling out vigilante justice as "The Spider," taking on the vicious predators of the night in hopes it'll lead him to his ultimate target – Vlad Dracula. And he needs Trish's help.

Although Nicky's renegade style goes against everything Trish stands for, she'll do what she must to bring Dracula down. With danger stalking her, Trish knows the only person she can count on is the one man who has the power to leave her breathless. There's no way she's letting this spider frighten her away…
I received this book for free from the publisher or author in exchange for an honest review.
This does not affect my opinion of the book or the content of my review.
Let me start of with saying that this was a good book. It was, really! But there were just some things that didn't connect with me and therefore I gave it no more then 3 stars.
So let's start with the story. It's good, there is lots of action, mystery, crime solving and also romance that kept me really comfy throughout the book. I liked the fact that the story used all kinds of persons and things from fairy tales and made them into something new. Like for example: Snow White owning a whorehouse, that was kinda shocking but nice. It appealed to my love for the more gory and violent side of fairy tales that are so often forgotten.
What I didn't like where the main characters. Oh don't get me wrong, I liked Trish just fine, I even liked Red, Nicky, Nate and Lavender, but I just could not truly connect to any of the characters or their story, this could also be a result of me not having read the first and second book, but I believe the characters just lacked something. I just can't put my fingers on what it is.
That said I don't think there's much else that I can say about this book. I liked it but it wasn't great.