This book may be unsuitable for people under 17 years of age due to its use of sexual content, language, and/or violence.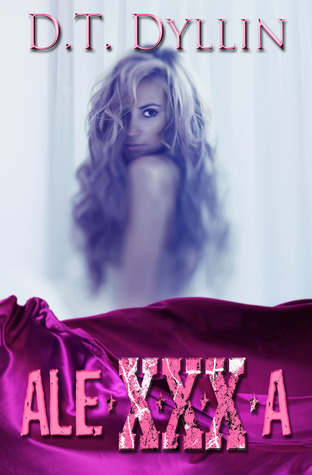 AleXXXa
by
D.T. Dyllin
Published on
July 20th, 2014
by
Tik Tok Press
Genres:
Adult
,
Contemporary
,
Erotica
Format:
eARC
Source:
Author
Amazon
|
B&N
|
BookDepository
|
Goodreads
Also by this author:
Kat Scratch Fever
,
Kat-napped
,
Open Gates
,
Hidden Gates
,
Broken Gates
Love and sex, sex and love… Can you have one without the other? As a world famous porn star, Alexa James thinks she has everything all figured out. But what happens when someone who gets paid to have sex has an existential crisis? Suddenly sex isn't enough, and love seems out of reach. Will Alexa's career choice permanently crush her spirit? Or will she discover that real love is about more than just the physical?
I received this book for free from the publisher or author in exchange for an honest review.
This does not affect my opinion of the book or the content of my review.

Now, I don't read smut books all that often but when I do, I like 'em hot and steamy and AleXXXa did not disappoint!!
The story is about Alexa, who's a famous porn star and loves it! And one day after shooting another scene, she gets told she has to be part of David Jonez newest documentary, which will be about the porn industry. Of course Alexa doesn't like, but goes along with it because she's contract bound and soon finds out that the director David Jonez gets under her skin like no other man does. It also doesn't help that he used to go to the same high school as her and she didn't even recognize him. But as the story goes on and their hot and passionate love begins to bloom, they realize to make their relationship work, they need to overcome certain obstacles in the way.
As for the characters. I loved David, he's nice and sweet and damn hot, in my humble opinion. Whoever said geeks weren't hot, never went to my high school. Because oh mama, those boys were hotter than hell and it didn't help that they were smart on top of that. As for Alexa, she's gorgeous but can be a bit selfish, but in the end she's a good woman who knows what she wants in the end. There were characters I hated but who made the story really interesting like Devlin (that *bleep*), Tara (who I was kinda "meh" over to be honest) and then at the last part of the book there were David's mom and Natalia his ex, who really made the ending hot and sweet at the same time.
All in all this book had me sweatin' like a sinner in church and at the same time made me go "aawwwwhhh" at those little sweet moments between David and Alexa. Definitely my kind of smut book and definitely re-read worthy!! I'll be looking forward to get my hands on the Paperback edition when it comes out!