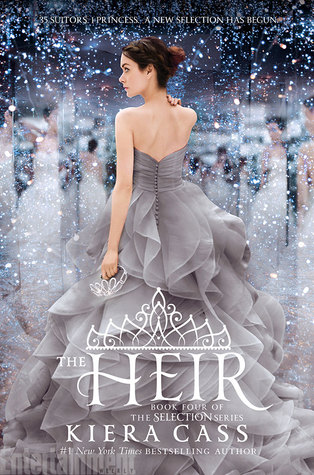 The Heir
by
Kiera Cass
Series:
The Selection #4
Published on
May 5th, 2015
by
HarperTeen
Genres:
Young Adult
,
Dystopian
,
Romance
Format:
Paperback
Source:
Purchased
Amazon
|
B&N
|
BookDepository
|
Goodreads
Also by this author:
The Selection
,
The Elite
,
The Selection
,
The Elite
,
The One
Princess Eadlyn has grown up hearing endless stories about how her mother and father met. Twenty years ago, America Singer entered the Selection and won the heart of Prince Maxon - and they lived happily ever after.

Eadlyn doesn't expect her own story to end in romance - she has no interest in repeating the fairy tale. But a princess's life is never entirely her own - and Eadlyn cannot escape her very own Selection, and one in particular entry who may just capture her heart ...
This is a discussion review between myself and Bieke of Istyria Book Blog.

Bieke: You know what's worse than when your high expectations aren't met? Having low expectations that aren't met in the slightest. Initially I was really looking forward to this book and the cover was pretty, but then the reviews started coming in and it just went downhill from there. The Heir is utterly disappointing.
Stephanie: Disappointing? You mean a goddamn train wreck!!!
Bieke: Well, I was trying to put it nicely. 😛
Stephanie: Well, no point in being nice about this. I loved the orignal Selection trilogy, but I have no qualms about saying that Kiera Cass should have never published The Heir. It ruined everything for me! And that may sound harsh, but it was just so awful!
Bieke: That it did. Though the initial story could have been amazing. I wanted to see America and Maxon again. See how they were doing and I did still love them both. I was interested to meet their daughter. But the more reviews of it came in and when I started reading, I found the problem with the whole book was just one thing. The Main Character.
Stephanie: Indeed. Eadlyn Schreave is the most egotistical, entitled, spoiled, heartless little [bleep] I have ever had the displeasure to read about. I still loved the little tidbits we got to see of Maxon and America. Hell even Eadlyn's brothers and some of her suitors (Kile!) were enjoyable to read. Eadlyn was just… not.
Bieke: I really liked Kile and her brothers too! But Eadlyn… I really hated her. I just couldn't bring myself to root for her. America was annoying at times too, especially in The Elite, but I still liked her enough to root for her and she redeemed herself every time. It's been a while since I've hated a main character this much. After 35% I just skipped to the ending. I wasn't interested anymore.
Stephanie: At least you were smart, I sat there reading 352 pages of whining and bitchiness until the very end -_- … needless to say I'm not in the mood to be nice about this book, most specifically it's MC Eadlyn.
Bieke: I just can't read a book with a main character I can't root for. The one star is just for America and Maxon. And maybe Kile too.
Stephanie: My 1-star rating is also because of Maxon and America, but also Kile AND her brothers, I liked Ahren to be honest, he was nice, unlike his wench of a sister.
Bieke: He really was! I would've loved to read this book from his POV. It would've been great! I'm really happy for him and I can root for him.
Stephanie: So true!!! The Heir would have been sooooooooooooooo much better from Ahren's POV. I'd love to see his relationship with Camille and how it came to be, too. Hopefully Kiera Cass will put out a novella about that. We can hope, I guess.
Bieke: I hope so, but I'm not sure if I'll continue this series. On one hand I want to know what happens to America now with that ending, but honestly I don't think I can sit through more books with Eadlyn as a Main Character.
Stephanie: Despite how torturous it was to finish The Heir, I am still finishing this series, since I absolutely hate not finishing series. And also a part of me wants to see what happens to America and who will end up as Eadlyn's prince consort (God help the poor man)
Bieke: I don't really care to be honest. I felt zero chemistry with any of them. They're all too good for Eadlyn. I'll hear what happens from you then. 😛
Stephanie: Most likely, yeah. LOL
Bieke: Well, I think that's all I have to say about this… How about you? Anything else to add?
Stephanie: Not really, I'm done ranting. I'm just glad I won't have to read this book, like … ever again.
Bieke: Me too! Ultimately this just was so very disappointing. I wanted to love this but I just didn't. And all because of the main character.
Stephanie: Same for me. The Heir has officially become one of the most disappointing books of 2015 for me.
Bieke: Jup, same here. And I was having such a positive streak. Damn it. XD
Stephanie: Well that's the end of our discussion review then, 😛 , let's just hope the next books we're going to read, won't disappoint us this much.
Bieke: Yes, let's hope.