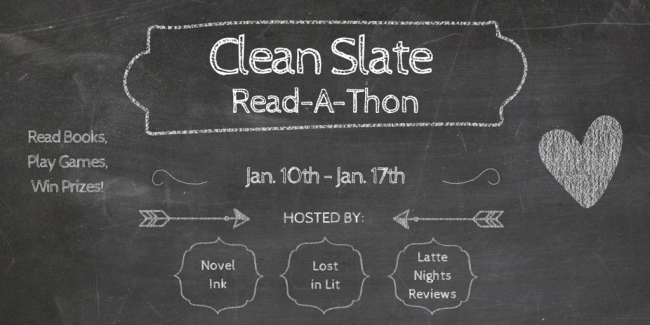 Rachel and Bee participated in the Clean Slate Read-a-Thon last week and here's how they did!
Bee:
I failed. Spectacularly at that. I'm quite proud of how amazingly I failed. Can I leave it at that? No? Okay…
I read 3 books. Only 3. It's my greatest shame of 2016 so far. BUT I do have a good reason. I wasn't in the mood on Sunday and Monday and then Tuesday I started reading but then after 3 books I stopped because Alan Rickman died and I didn't feel like reading at all anymore. I wanted to go lie in bed and sob. So yeah.
These are the books I read, which will be mini-reviewed here on the blog in a few days! Luckily I enjoyed all of these, so yay!
Now it's over to Rachel for a more detailed version of what I just did. x)
Rachel:
The Clean Slate Readathon was meant to be my chance to catch up on all those 2015 releases that I hadn't gotten to yet… and it didn't work out that way at all. I ended up not being at home for most of the week so I didn't have access to half of the books I was planning on reading. On top of that, I fell into a bit of a reading slump in the last three/four days, and didn't end up reading at all – which is not like me at all. I think I may have pushed myself too hard with the Nov/Dec reading challenge I did last year. I'm still burned out over reading just over 40 books in five weeks! Also the three books I read in the first three days of the challenge were 1.5, 2 and 3 star reads for me so I was kind of in a bad reading mood because of that. But excuses are just excuses so let's move on.
My planned TBR:
Well, as you can see, I only read three books out of this TBR.
Sunday, January 10
Reading: I Was Here by Gayle Forman, The Dead Girls of Hysteria Hall by Katie Alender
Pages Read: 40% of I Was Here, 329 pages of The Dead Girls of Hysteria Hall (finished)
Monday, January 11
Reading: Afterlight by Rebecca Lim, The Scorpion Rules by Erin Bow
Pages Read: 240 pages of Afterlight (finished), about 10% of The Scorpion Rules
Tuesday, January 12
Reading: A History of Glitter and Blood by Hannah Moskowitz
Pages Read: 280 of A History of Glitter and Blood (finished)
Wednesday, January 13
Reading: The Scorpion Rules by Erin Bow
Pages Read: Maybe about 20%?
Thursday, January 14
Reading: The Scorpion Rules by Erin Bow
Pages Read: Not even 5%
Friday, January 15
Reading: A graphic novel that wasn't even published in 2015
Pages Read: 0 pages read
Saturday, January 16
Reading: Nothing – *sad face*
Pages Read: 0 pages read
Sunday, January 17
Reading: Big Game by Dan Smith, The Scorpion Rules by Erin Bow
Pages Read: 304 pages read of Big Game (finished), up to 61% of The Scorpion Rules
Final Results:
Total books read for #cleanslatereadathon: 4 entire books (but 40% plus 61% = 101% – so maybe a fifth book if we allow that sort of convoluted maths?)
Total pages read for #cleanslatereadathon: 1153 pages of finished books + approx. 108 pages of I Was Here + approx. 228 pages of The Scorpion Rules
Damn, who thought reading would involve so much maths!?
Anyway, I'm not particularly happy with my effort but I am happy that managed to get four books off my TBR (three of which I had had ARCs for too – so that's a bonus). I do have a tonne of 2015 releases I still need to get to, including the ones in my original TBR. But they're not ARCs sp I'll try and get to them soon though but they won't be too high of a priority. I finished The Scorpion Rules the day after the challenge finished, but still haven't finished I Was Here. I'll get to it one day… maybe?
QoTD: If you participated in the readathon let us know how you did. And what 2015 releases do you still want to catch up on?
Latest posts by Bee, Liza & Leah
(see all)