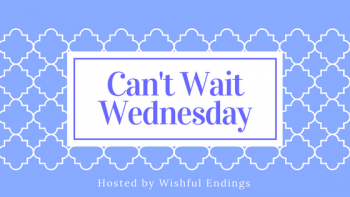 Can't Wait Wednesday is a weekly feature hosted by Wishful Endings, where we get the opportunity to talk about upcoming books we're excited for. It's inspired by Waiting on Wednesday, hosted by Breaking the Spine.
Leah
Frankly in Love
by
David Yoon
Pages:
432
Published on
September 10, 2019
Goodreads
Also by this author:
Frankly in Love (Frankly in Love, #1)
High school senior Frank Li is a Limbo–his term for Korean-American kids who find themselves caught between their parents' traditional expectations and their own Southern California upbringing. His parents have one rule when it comes to romance–"Date Korean"–which proves complicated when Frank falls for Brit Means, who is smart, beautiful–and white. Fellow Limbo Joy Song is in a similar predicament, and so they make a pact: they'll pretend to date each other in order to gain their freedom. Frank thinks it's the perfect plan, but in the end, Frank and Joy's fake-dating maneuver leaves him wondering if he ever really understood love–or himself–at all.
Why I'm Waiting: Nicola Yoon's husband makin' his debut with this book, which looks so stinking cute.
Bee
Red, White & Royal Blue
by
Casey McQuiston
Pages:
432
Published on
May 14, 2019
by
St. Martin's Griffin
Goodreads
A big-hearted romantic comedy in which First Son Alex falls in love with Prince Henry of Wales after an incident of international proportions forces them to pretend to be best friends...

First Son Alex Claremont-Diaz is the closest thing to a prince this side of the Atlantic. With his intrepid sister and the Veep's genius granddaughter, they're the White House Trio, a beautiful millennial marketing strategy for his mother, President Ellen Claremont. International socialite duties do have downsides—namely, when photos of a confrontation with his longtime nemesis Prince Henry at a royal wedding leak to the tabloids and threaten American/British relations.

The plan for damage control: staging a fake friendship between the First Son and the Prince. Alex is busy enough handling his mother's bloodthirsty opponents and his own political ambitions without an uptight royal slowing him down. But beneath Henry's Prince Charming veneer, there's a soft-hearted eccentric with a dry sense of humor and more than one ghost haunting him.

As President Claremont kicks off her reelection bid, Alex finds himself hurtling into a secret relationship with Henry that could derail the campaign and upend two nations. And Henry throws everything into question for Alex, an impulsive, charming guy who thought he knew everything: What is worth the sacrifice? How do you do all the good you can do? And, most importantly, how will history remember you?
Why I'm Waiting: This sounds like a romcom written specifically for me. I've been hearing amazing things about it and can't wait to get myself a copy!
What book are you waiting for?