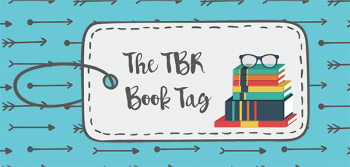 I (Rachel) was tagged for the TBR tag by an Instagram friend. I have no idea how I was meant to answer so many question in a tiny Insta caption so I decided it was easier to create a blog post for it and have Liza and Bee join me… so here we are! This tag was created by Rachel from A Perfection Called Books and Dana from Dana Square. Header sourced from Bookstacks Amber.
---
How do you Keep Track of Your TBR Pile?
Rachel: I use Goodreads. I'd honestly die without it. There use to be a little notebook where I'd write all the books I wanted to write down, but that was far too much work. I also use the 'wishlist' function on my library's Overdrive system to keep track of the library books I want to read.
Liza: I use shelves in Goodreads too sort by year and month of publication and whether I own a copy.  I organize my physical books in order of publication so I have an idea of what I should be reading next.
Bee: Same here. Goodreads! I also have lists with books I HAVE to read a certain months (ARC's & other review copies). But mainly Goodreads.
Is Your TBR Mostly Print or Ebook?
Rachel: Ebooks at the moment. I own a lot of physical books that I need to read still, but I don't read ebooks as often so my virtual TBR is building up.
Liza: I have both!  I have a gazillion of each, I'm sure (yes, that's a real number, I can show you my shelves to prove it!)
Bee: Mostly ebooks because they're cheaper and take up less space.
How do You Determine Which Book from Your TBR to Read Next?
Rachel: It's a struggle, to be honest. Until this year, I would read whatever book was due next – whether it be back at the library or it was an ARC with a review due by date. Now, I try to read what I feel like. If I want to read something historical, I pick up whatever is due next, but in that specific genre. I don't fall into slumps as much with this method. If I'm in a weird mood, I might turn my Goodreads shelf setting to 'random' and read whatever pops up first, but that's rare.
Liza:  I'm horrible at this, but I keep shelves in Goodreads and organize by physical copies too.  I know some people keep spreadsheets, but I'm a mood reader and if I don't feel like reading a book, it's really hard for me to get into it.
Bee: The above mentioned lists! I have a list of books I HAVE to read in March/April/May/… and when I chose a new book, I pick one from that list first. If I'm ahead on that list, I chose one from my backlist TBR.
A Book that's Been on Your TBR the Longest?
Rachel: I cheated and used Goodreads. Turns out the day I got Goodreads I added hundreds of books, but the very, very first one seems to be The Time Traveler's Wife. I haven't read this yet or seen the movie so I really need to. I love time travel!
Liza: Hallowed by Cynthia Hand 🙁
Bee: The Da Vinci Code by Dan Brown!
A Book that You Recently Added to Your TBR Pile?
Rachel: I cheated again and looked at Goodreads. Yesterday I added three books: A School for Unusual Girls by Kathleen Baldwin because I'm such a historical mood, The Book of Ezra by Carolyn Lee Adams because I enjoyed Ruthless and now have to wait until 2017 for her next book *wails*, and Stealing Snow by Danielle Paige because that cover and retellings.
Liza:  I recently added Summers at Castle Auburn by Sharon Shinn and Leave Me by Gayle Forman. The first because I love fantasy and the second because Forman wrote it.
Bee: I added Save Me, Kurt Cobain by Jenny Manzer to my wishlist. Because I had a slight obsession with Kurt Cobain & Nirvana when I was younger and a book about it sounds fantastic to be quite honest.
A Book on your TBR Strictly Because of its Beautiful Cover?
Rachel: Aerie, the sequel to Magonia (a book I hated with a passion when I read it last year). Like I said, I didn't like the first book so the only thing appealing to me about the idea of a sequel at the moment is that darn gorgeous cover!
Liza: Any of the books in Kiera Cass' Selection series. Not sure that I would read it, but those covers are all gorgeous!
Bee: A Madness So Discreet by Mindy McGinnis. I adore that cover, but the story, while it sounds good, is not something I usually read/enjoy.
A Book on Your TBR that You Never Plan on Actually Reading?
Rachel: This seems like a bit of a random question. If I didn't plan on reading it, why would it be on my list? But I guess I'll go with Pathfinder by Orson Scott Card because I want to read it so, so badly but I refuse to support the author (who finances anti-LGBT+ campaigns among other things – Google him and you'll see).
Bee: I actually have a shelf for this, haha. I'll go with a shocking choice: Harry Potter and the Cursed Child by J.K. Rowling. I love HP, but I don't care about this "book" at all. Sorry. BAAHHH, I'm a black sheep.
Liza: First, I can't believe you would say that Bee!!! Okay, since my Goodreads shelves are a mess and I never clean them up, I think I have quite a few of these.  One that comes to mind is Delirium by Lauren Oliver, I've heard horror stories about the end of the series, so I don't think I'll ever read it.
Rachel: Bee, I agree completely! I don't plan on reading The Cursed Child either… it's a play and I just… I don't want to ruin HP. I'm happy like it is.
An Unpublished Book on Your TBR that You're Excited For?
Rachel: The Forgetting by Sharon Cameron. I'm currently listening to her Dark Unwinding duology and it's amazing so I definitely want to check out more of her books. And isn't that cover gorgeous?
Liza: SO MANY!!!!  There are a lot of series that I've started and I can't wait to read the sequels. Among these are The Raven King by Maggie Stiefvater, A Court of Mist and Fury by Sarah J. Mass, and The Rose and the Dagger by Renee Ahdieh.
Bee: REALLY? I have an entire shelf for that, which contains more than 150 book and you want me to pick one?? SIGH. Alright… I'm going to go for And The Trees Crept In by Dawn Kurtagich, because this lady's first book, The Dead House, made me crap my pants and I want to know if she can accomplish that again.
A Book on Your TBR that Everyone Recommends to You?
Rachel: Ready Player One by Ernest Cline. I know it's one of Bee's favourites but it seems to be recommended to me by everyone. Luckily, I picked up a copy the other day so I'll get to it soon (hopefully)…. at least before the movie comes out.
Liza: The Lunar Chronicles series by Marissa Meyer!  I hear from everyone these books are amazing, I just need to find some time to read them.
Bee: Excellent choice Rach! Hmm, let me think. I'm going with Rebel of the Sands by Alwyn Hamilton. Everyone is raving aboutt his book and telling me to read it and I do want to!
A Book on Your TBR that Basically Everyone has Read Except You?
Rachel: Throne of Glass. I don't think I even need to put the author down. Everyone seems to have read this series, but I just… I don't know. It hasn't really grabbed my attention yet. Maybe the hype is putting me off. Or the fact that there's a love triangle (square? pentagon?) and everyone's been disappointed where the series headed in Queen of Shadows. I have to read it sometime soon though. Maybe.
Bee: Several, actually. Six of Crows by Leigh Bardugo is one for example. Simply because I do not have a copy and me = broke so there.
Liza: First of all you both have to read Throne of Glass and Six of Crows!  Anyway, I feel like everyone has read A Darker Shade of Magic by V.E. Schwab (Don't kill me Bee!)
Bee: You read Simon VS so I forgive you.
A Book on Your TBR that You're Dying to Read?
Rachel: Disruption by Jessica Shirvington. My teacher actually recommend this one to me after I mentioned I enjoyed the author's book, Between the Lives. It sounds really unique and interest… and yay for supporting Australian authors.
Liza: Again, SO many! This Shattered World by Amie Kaufman and Meagan Spooner  and Morning Star by Pierce Brown are a couple on the top of my list!  These are sequels to series that I love 🙂
Bee: The Crown's Game by Evelyn Skye. Luckily I have an ARC so I can read it as soon as I have time for it! 😀
The Number of Books on Your Goodreads TBR Shelf?
Rachel: *cackles*, *nervously clears throat*….. I don't even want to say… *beckons forward* *leans down low* *looks anxiously around* *whispers*…. 1550 books. *sobs because how is anyone meant to read that many books?*
Bee: 970! Not including the books on my waiting-list and wishlist.
Liza: *laughs at Bee and Rachel's shelves* I have over 2,000 books! I'm not ashamed either!
---
Let us know what next on your TBR to pick, how your organise it, the number of books stacking up on your nightstand.., any of your answers to the above questions.
Bee, Liza, Effie & Rachel are the co-creators and bloggers of Quite the Novel Idea!
Latest posts by Bee, Liza & Leah (see all)