My head is a very very busy place. It always is. Lots of thoughts and ideas and characters for writing projects… I'm sure you're familiar with it. So naturally, there are quite a few thoughts that pop up regularly. Like the ones you have right before starting a new book. You'd be surprised how much can go through your head that moment you pick up your next read and flip it open to the first page. So I decided to share ten that regularly go through my head in that particular moment. Here we go!
Thought #1: Will this live up to my expectations? Maybe I should lower them a bit…
Books tend to come with expectations. Some of them are small as a grain of sand. Others soar higher than Mount Everest. And it's the latter ones that can be very risky. Because if you have expectations that high, how can a book ever live up to them? Poor thing never stood a chance. Though, yes, there are a few that DO live up to expectations that high. But they're very very rare. Most books don't and in the end nobody wins. The book is sad because it had so much pressure put on it to be great and you didn't think it was. You are sad because you didn't love said book as much as you wanted to. So everyone is sad and disappointed and in need of a hug, basically.
But having low expectations isn't good either. Because sometimes you need to have high expectations. Especially if a book is from a succesful author that you love. And when a book is very hyped and marketed as the greatest thing to grace the Earth since some genius up on a mountain invented cake. It's okay to have high expectations. Just don't expect TOO much of every book you read.


Thought #2: How will the writing be? Will it work for me? Will it be so good you can eat it with a spoon? Or will it make me stab my eyes out with a spork?
Obviously the writing is important in a book. So naturally we flip to that first page hoping it's at least good. But sadly sometimes, it is not. Sometimes writing can be cringe-worthy. It can be too simple or too complex and confusing. It can have stiff and unnatural dialogue and horrible pacing. That makes it significantly harder to enjoy a book. And sometimes it makes you want to stab your eyes out with the aforementioned spork because OMG how did this ever get through all those people and into your hands??
But sometimes the writing is so delicious you could eat it. You're hooked from the first sentence and sucked into the world those words create. Great writing makes you feel things. (I know. Bad writing can make you feel frustrated and sad but shush.) Great writing makes you want to keep reading. It makes you connect to the other and want to pick up more of their work.
BUT sometimes even great writing isn't enough. Sometimes it's gorgeous, but you just don't connect with it. It's just not for you. That happens. And that's okay. It's sad, because your friends adore this book but you just can't get into it. There's nothing wrong with you. Those friends have authors whose writing isn't for them either. It happens. Go eat comfort cake and cuddle up in a warm blanket. And start a new book. With writing you love.


Thought #3: By the end of this, will I have a new collection of characters to adore? Or will they all be as interesting as a blank sheet of paper??
Characters are for me the most important part of a book. They can make or break a book for me. The plot can be cliche and predictable but if the characters are amazing, that helps a lot with my enjoyment of the book. Naturally I have lots of characters I adore lots. And I always want more characters to adore.
So when I start a new book I always wonder if I will love the characters in it. Will I connect with them? Will I shout my love for them from the rooftops? Or will they be flat and boring and not interesting at all and make me want to weep and curl up in bed. It happens, sadly.
I have an entire shelf on Goodreads dedicated to the books that feature some of my favorite characters. You can find it here.


Thought #4: Will this give me the feels? Will I laugh and cry and laugh-cry? Or will I sit here like an unfeeling rock or a human?
Books tend to give a lot of feels. But sometimes they don't. I am a sensitive little baby though and I cry easily so usually this is me…


Thought #5: How will the story be? I'm not going to get bored, right? Please let it be good.
Because nobody wants to be reading a book and be like…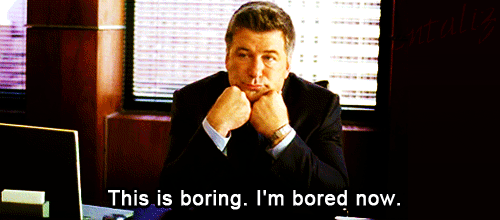 Thought #6: OMG this book is super-hyped… What if it doesn't click with me? Will I have to move and live in hiding from the crowds with pitchforks and torches???
Hype can kill a book. It really can. Because it puts so much pressure on both the book and the author and the reader. Because when a book is hyped AND loved, you expect to love it too. Because so many other people do. And if you don't… you start to wonder what's wrong with you and when the angry mob with arrive with their pitchforks and torches and then you're hiding under your blankets because #scared.


Thought #7: I loved [other book's title] from this author a lot… What if this one isn't as good as that one was??? WHAT IF IT'S HORRIBLE???
This particular thought is one I had when I started The Upside of Unrequited by Becky Albertalli. I have been very subtle with my love for her debut Simon VS The Homo Sapiens Agenda, I know. But I DO adore that book quite a bit. So there was a lot of pressure on The Upside of Unrequited. THANKFULLY it was amazing and I adored it. But sometimes you're not as lucky and you're left a sobbing, disappointed mess because WHYYYY??


Thought #8: This is a sequel to [book title]… I'm scared of sequels… But the first book was amazing and this author is cool so… Maybe I should read another book first… SEQUELS ARE SCARY HELP ME. Okay I'll read it… But this better not be bad because that'll break my heart and make me sob in a corner. #nopressure
Sequels are terrifying. Because they often suffer from the dreaded Second-Book-Syndrome and that's enormously disappointing. So naturally I'm always a bit hesitant to read them. Because if it's bad it'll break my heart and it might put me off the rest of the series too and that's sad. Luckily sometimes sequels are amazing. Or even better than the previous book. In which case we can rejoice and have a party!


Thought #9: OMG THIS IS THE LAST BOOK IN THE SERIES. *sobs* I will have to say goodbye to these characters in this world and I don't want to. What if it doesn't end like I want it to?? WHAT IF THIS DESTROYS MY OTP & CRUSHES MY SOUL??? *flails* I can't. I have to read another book. I can't do this. It's too much. *tosses book away and runs*
Yeah last books in a beloved series often make me panic for a few reasons. 1) WHAT IF IT'S NOT EVERYTHING I HOPED? 2) What if it doesn't end good and not like I want? WHAT WILL HAPPEN TO MY PRECIOUS CHARACTERS?? AND MY SHIPS?? 3) OH GOD now I have to say goodbye to this world and these characters and it huuuurts. I can't. It's too much.


Thought #10: Okay so [friend] recommended this and we adore each other so obviously I listen to them. BUT WHAT IF I HATE THIS? WILL THIS DESTROY OUR FRIENDSHIP??? So much pressure. I can't. I'll have to bake them cake and make up an excuse for not reading it.
This particular one can be disastrous for both parties. Because recommending a book you love to a friend is SCARY because what if they don't love it??? And reading a book recommended by a friend that loves it is scary too because what if you hate it??? Will your friendship survive? WHO CAN KNOW. These types of things are true tests of friendship. For sure. But if it's meant to be, your friendship will survive the storm. In the meantime, please do continue to panic and flail about it.


Do any of these thoughts go through your head when starting a new book? Or do you have completely different ones? OR ARE YOU A BRAINLESS PINEAPPLE WITH NO THOUGHTS AT ALL? Tell me in the comments!