Guys, guys, guys!!!  I'm so excited that it's finally here! What am I talking about?  Well, the sequel of Kelly Oram's AMAZING book, Cinder & Ella.  If you don't believe me, read my review and also Bee's.  Go on, I'll wait right here. Did you see they are both five star reviews? Oh, by the way you can buy Cinder & Ella for 99 cents until the end of the month.
So here goes some shameless promotion of what it's sure to bee a great sequel.
About Happily Ever After
Title: Happily Ever After
Series: Cinder & Ella #2
Author: Kelly Oram
Publisher: Bluefields Publishing
Genre(s): Young Adult, Contemporary, Romance, Sequel
Release Date: April 11, 2017
The end of one story is often the beginning of another. Hollywood heartthrob Brian Oliver and his Cinderella princess Ellamara Rodriguez have finally found love outside the digital world. But leaving their anonymity behind creates a whole new set of obstacles for the nation's new favorite sweethearts. With the stress of Brian's fame and the pressures of a new relationship weighing down on them, the It Couple quickly begins to wonder if they can hold on to their newfound joy, or if maybe happily ever after is only a fairy tale after all.
Find it in Amazon: US | UK | CA | AU
Here is a teaser for you: 
What did you say?  It's not enough for you?  Well, since you're bending my arm, here's another one: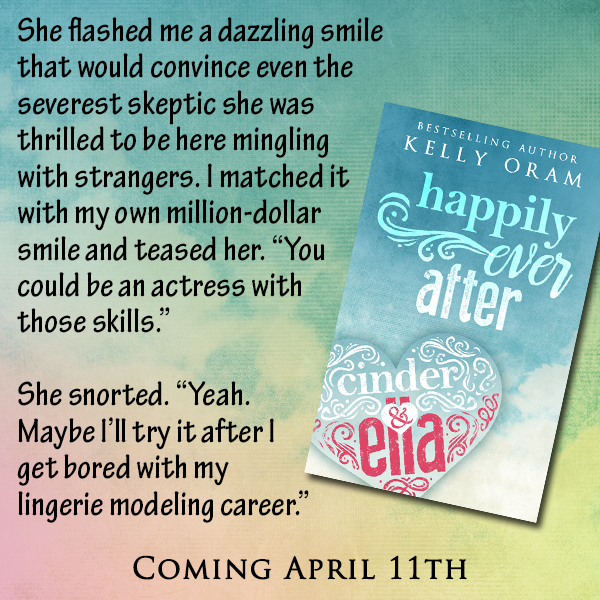 About Kelly Oram
Kelly Oram wrote her
first novel at age fifteen—a fan fiction about her favorite music group, The Backstreet Boys, for which her family and friends still tease her. She's obsessed with reading, talks way too much, and likes to eat frosting by the spoonful. She lives outside of Phoenix, Arizona with her husband, four children, and her cat, Mr. Darcy.
Don't miss the latest news from Kelly Oram! Sign up for her newsletter to receive e-mail notifications for all of her new releases, events, sales, & giveaways. This is a monthly newsletter often with exclusive giveaways and freebies from some of her favorite authors.
Website | Facebook | Twitter | Amazon | Goodreads | Instagram

A Signed Copy of Cinder & Ella (Int)
I'm an avid reader (since I learned to read at age four) and a book blogger (since May, 2011).I read mostly YA, but I also read romance, new adult and some middle grade.

Born in Puerto Rico, hola :), military wife for 22-years, and mother of three boys.I work full time doing something else that I love (sadly I don't get paid for reading!)