Hi there gorgeous readers!  This is my first book by Showalter and I have to say that I was impressed with the story.  Stick around for my review and for the giveaway!
ABOUT FIRSTLIFE
ONE CHOICE.

TWO REALMS.

NO SECOND CHANCE.

Tenley "Ten" Lockwood is an average seventeen-year-old girl…who has spent the past thirteen months locked inside the Prynne Asylum. The reason? Not her obsession with numbers, but her refusal to let her parents choose where she'll live—after she dies.

There is an eternal truth most of the world has come to accept: Firstlife is merely a dress rehearsal, and real life begins after death.

In the Everlife, two realms are in power: Troika and Myriad, longtime enemies and deadly rivals. Both will do anything to recruit Ten, including sending their top Laborers to lure her to their side. Soon, Ten finds herself on the run, caught in a wild tug-of-war between the two realms who will do anything to win the right to her soul. Who can she trust? And what if the realm she's drawn to isn't home to the boy she's falling for? She just has to stay alive long enough to make a decision…
REVIEW
Firstlife is by first book by Showalter, since I didn't read her previous series.  It turned out to be an interesting and unique story, even if it took me a while to get into it. 
The premise of the story is innovative.  There are two realms: 1) Troika – which is light, sacrifice and love and 2) Myriad – full of darkness, violence and deceit.  In one's life someone must decide which realm to join after the die for the first time (hence "Firstlife").  The decision is binding, so it is kind of important. There's a catch, if you remain unsigned, then "Many Ends" is what awaits you after your first death and that place is kind of like hell.  Not good. Of course, there's a lot more to the plot, but you get the basic premise.
Our main character is Tenley, Ten for short.  She's in a prison for teenagers design to force them into decisions they don't want.  Ten's parents put her there because she refused to sign with Myriad.  This place is full of horrors and it's awful, but it made Ten very strong, fearless and a good fighter.  She cannot made a decision and it causes her no little amount of trouble.  I take it that it's an important decision, but her ambivalence made me crazy!  It turns out that she's pretty important to both realms (not sure why though) and everyone wants her in their team. After her seventeen birthday, the pressure increases and two boys come into her life.
Archer and Killian are both sent to help Ten make a decision and to keep her safe, so kind of guardian angels/spirits.  Archer is from Troika and he's blond, strong, kind, and good to the core. Oh, and he has a British accent.  Killian is a bad boy from Myriad.  He's more complex and he's suffered a lot in his second life.  He's intrigued by Ten and her strength and need to help others.  Killian is ruthless and kills without thought.  Oh, and he has Scottish accent.  Now, there is not triangle, okay?  Archer is more like a big brother and Killian is most definitely the romantic interest.  Which makes Ten's decision harder: Does she joins the realm full of light or the one where Killian is?  I love the romantic aspect of the story and that it was not insta-love.
I was slow to get into the story.  I felt like at the beginning Ten told us a lot, which felt like a big info-dump to me and honestly put be off a bit.  It did get better and more interesting, so stick with it 🙂  The world building could have been done a bit better, but the overall idea was really good.  There is a lot of action in the book and I was always wondering what kind of calamity will befall Ten next.  Some parts of the book are very thriller like. The writing was also quite good.
This book was looonnggg (per Goodreads the book is 480 pages long) and it felt long.  You understand what I mean, right?  I think there was some unnecessary parts that didn't add much to the story, I think Showalter could have told the same story and still cut like 100 pages.  It felt like we were in a loop all the time with Ten thinking and whining about what choice to make.
Overall, I liked Firstlife.  It wasn't perfect, but it was a good start to the series.  Now I have to wait for the second book – Lifeblood – due sometime next year, I imagine.  
ABOUT GENA SHOWALTER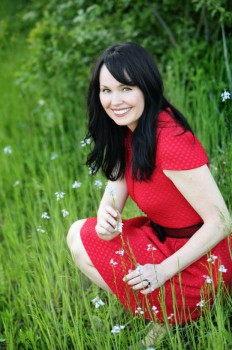 Gena Showalter is the New York Times and USA Today bestselling author of over thirty books in paranormal and contemporary romances, as well as young adult novels. Her series include White Rabbit Chronicles, Angels of the Dark, Otherworld Assassins, Lords of the Underworld, Alien Huntress and Intertwined.
Her novels have appeared in Cosmopolitan Magazine, and Seventeen Magazine, and have been translated all over the world. The critics have called her books "sizzling page-turners" and "utterly spellbinding stories", while Showalter herself has been called "a star on the rise".
LINKS: Website | Twitter | Facebook
Visit the Rest of the Tour
Week 1:
2/15: Fiction Fare – Review
2/16: Reading Is Better with Cupcakes – Pocket Letter
2/17: The Book Cellar – Review
2/18: Swoony Boys Podcast – Dreamcasting
2/19: Paperback Princess – Review
Week 2:
2/22: Jenuine Cupcakes – Q&A
2/23: Read-Love-Blog – Review
2/24: The Irish Banana Review – Fast 5
2/25: Reading w/ABC – Review
2/26: No BS Book Reviews – Cover Lovin'
3 Finished Copies of Firstlife (US Only)
a Rafflecopter giveaway
I'm an avid reader (since I learned to read at age four) and a book blogger (since May, 2011).I read mostly YA, but I also read romance, new adult and some middle grade.

Born in Puerto Rico, hola :), military wife for 22-years, and mother of three boys.I work full time doing something else that I love (sadly I don't get paid for reading!)