Hi there my gorgeous readers!  Welcome to today's stop of  Erin Beaty's The Traitor's Kiss Blog Tour.  If you've been following the tour, you know that each stop has a secret message to put together make a passage of the book, so please stop by the other posts for more amazing posts.  Right now I'm 85% done with the book and I'm really enjoying it (review coming in the next few weeks 🙂  First, lets learn a  bit about the book:
The Traitor's Kiss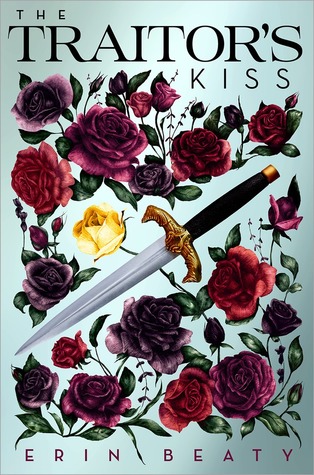 The Traitor's Kiss (Traitor's Trilogy, #1)
by
Erin Beaty
Series:
Traitor's Trilogy #1
Pages:
352
Published on
May 9th 2017
by
Imprint
Amazon
|
B&N
|
Goodreads
Also by this author:
The Traitor's Kiss (Traitor's Trilogy, #1)
An obstinate girl who will not be married. A soldier desperate to prove himself. A kingdom on the brink of war.
With a sharp tongue and an unruly temper, Sage Fowler is not what they'd call a lady―which is perfectly fine with her. Deemed unfit for marriage, Sage is apprenticed to a matchmaker and tasked with wrangling other young ladies to be married off for political alliances. She spies on the girls―and on the soldiers escorting them.
As the girls' military escort senses a political uprising, Sage is recruited by a handsome soldier to infiltrate the enemy ranks. The more she discovers as a spy, the less certain she becomes about whom to trust―and Sage becomes caught in a dangerous balancing act that will determine the fate of her kingdom.
Alternate Cover
My post is for an alternate book cover.  At first I intended to draw a new cover, but I quickly realized that I'm not talented enough to pull it off 🙂  so I decided to try my had and creating a graphic.  I kept the flowers because I really liked it, but I added a ledger and ink pen that are one of the things that are significant about the story.  I could have added books and daggers too, but as you know, my graphics (and handlettering/designs) tend to be more feminine.  I adore swirls, so I found a way to add them too.  So here you go:
What do you think?

Secret Message
"Lowest ranking lady, plainer dress"
About the Author
I was born and raised in Indianapolis, Indiana, which means I can't drive a tractor, but I won't eat veggies that come from a can.

After high school, I tossed off to the U.S. Naval Academy where I earned my BS in Aerospace Engineering (Astronautics) and German (Ja!) then headed to the fleet as a weapons officer on a combat destroyer. After that I did a tour at the Center for Naval Leadership as an instructor, then resigned my commission to pursue my side hobby of populating the Church of Rome.

For the next few years, I followed my navy husband around the country, our growing family in tow, until one day I sat down at the computer and let one of the stories in my head out. Telling my friends and family I was trying to be a serious writer was a bit like coming out of the closet. At first it was terrifying, but many of them just nodded and said they had always known I was a writer, they were just waiting for the day I could acknowledge it.

I teach classes at The Muse Writers Center in Norfolk, Virginia, and I am also on the advisory board of Hampton Roads Writers.

In early 2016 I sold my first novel to Imprint, Macmillan for publication in June 2017, and I've been mentally screaming in joy and terror since.