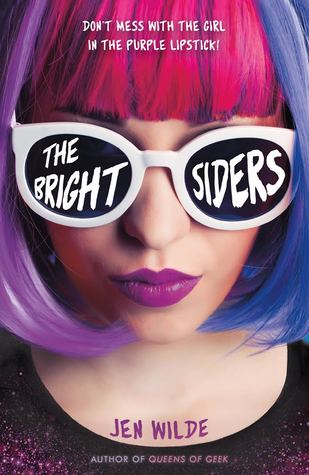 The Brightsiders
by
Jen Wilde
Published on
May 22nd 2018
by
Swoon Reads
Genres:
Young Adult
,
Contemporary
Amazon
|
B&N
|
Goodreads
Also by this author:
Queens of Geek
A teen rockstar has to navigate family, love, coming out, and life in the spotlight after being labeled the latest celebrity trainwreck in Jen Wilde's quirky and utterly relatable novel.

As a rock star drummer in the hit band The Brightsiders, Emmy King's life should be perfect. But there's nothing the paparazzi love more than watching a celebrity crash and burn. When a night of partying lands Emmy in hospital and her girlfriend in jail, she's branded the latest tabloid train wreck.

Luckily, Emmy has her friends and bandmates, including the super-swoonworthy Alfie, to help her pick up the pieces of her life. She knows hooking up with a band member is exactly the kind of trouble she should be avoiding, and yet Emmy and Alfie Just. Keep. Kissing.

Will the inevitable fallout turn her into a clickbait scandal (again)? Or will she find the strength to stand on her own?
Excerpt
When we pull up to the building, photographers and TV cameras are waiting. Chloe untwists the lid of their plum brown lipstick and slides it over their bottom lip. I must have seen them wear it a hundred times, but it always looks amazing. It compliments the green hues in their eyes and their dark brown skin perfectly. One of the many things we have in common is that we both wear make-up like knights wear suits of armor. I hope mine protects me from the arrows coming my way today.
The driver steps out of the car first, doubling as our bodyguard. Paparazzi rap their knuckles on the window. TMZ, Entertainment Now, and a host of other celeb gossip reporters are here, their lenses pointed right at me.
"Oh, God," I groan.
"Neutral," Chloe says. I nod.
I dab a fresh layer of powder over my nose, ease my sunglasses over my eyes and step out of the car. I keep my head down as our bodyguard pushes through the crowd. I don't cry. I don't smile. Not even when the barrage of questions start.
"How are you, today, Emmy?"
"Hey Chloe! Are you on babysitting duty today?"
"Have you been drinking this morning, Em?"
"Where's Jessie this morning? Still in jail?"
"Are you an alcoholic, Emmy?"
"Emmy! How does it feel to hit rock bottom?"
Security ushers us into the foyer and we hurry to the elevators, desperate to get out of sight.
"You've got this," Chloe says when we reach the top floor.
Giveaway
Follow the Tour!
May 21st
–Tale Out Loud >> Guest post
–Stories That Make You Smile >> Interview
–Jill's Book Blog >> Review
–Living a Hundred Lives >> Review
–The Book Dutchesses >> Review
May 22nd
–Book Stacks Amber >> Excerpt
–Books of a Shy Girl >> Review
–Not Just Fiction >> Review
May 23rd
–Butterfly-o-Meter Books >> Interview
–Book-Keeping >> Review
–A Book Addict's Bookshelves >> Guest post
–The Bibliophagist >> Review
–The Book Maiden >> Review
May 24th
–Abooktropolis >> Review
–BookCrushin >> Review
–A Dream Within A Dream >> Excerpt
–Quite The Novel Idea >> Excerpt
May 25th
–Belle's Book Blog >> Review
–The Heart of a Book Blogger >> Review
–Here's to Happy Endings >> Review
–Bookcheshirecat >> Review
–The Inked In Book Blog >> Review
Do you want to read the book? Have you read Queens of Geek yet?