This book may be unsuitable for people under 17 years of age due to its use of sexual content, language, and/or violence.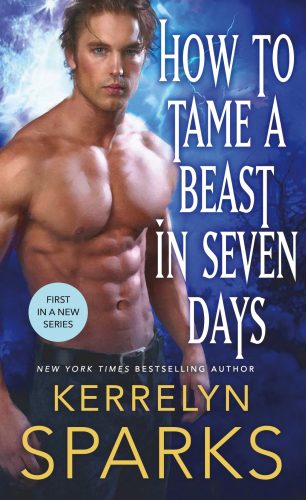 How to Tame a Beast in Seven Days (The Embraced, #1)
by
Kerrelyn Sparks
Series:
The Embraced #1
Pages:
416
Published on
January 1st 1970
by
St. Martin's Press
Genres:
Adult
,
Fantasy
,
Romance
Format:
eARC
Source:
ARC Provided for Tour
Amazon
|
B&N
|
BookDepository
|
Goodreads
Also by this author:
How to Tame a Beast in Seven Days
,
So I Married a Sorcerer (The Embraced, #2)
Luciana grew up on the Isle of Moon, hidden away because of her magical powers. But when her father arrives, he offers her a choice: remain on the island or return with him and marry the Beast of Benwick in order to save their legacy—and her father's life.
Lord Leofric, the Beast of Benwick, has not been touched since he was a child. Born with the power to harness lightning, he is a danger to everyone he touches. When he meets his betrothed, he expects a loveless, lonely marriage...until he discovers she's vastly more powerful than he realized. But is she strong enough to withstand his touch?
If they can survive, their love will alter the future of the kingdom. But will their extraordinary powers cost them everything?
I received this book for free from the publisher or author in exchange for an honest review.
This does not affect my opinion of the book or the content of my review.

Welcome my dear readers to the blog tour for How to Tame a Beast in Seven Days.  I am a BIG fan of Beauty and the Beast and I love to read anything that's based on that beloved fairy tale.  This is also the first book I've read by Kerrelyn Sparks and I loved it.  Now, on to the review.
Review
As I said, my favorite fairy tale re-telling is B&B.  I just adored that type of love that can grow despite appearances and against all odds.  How to Tame a Beast in Seven Days did not disappoint at all.
Luciana was raised in the Isle of Moon, together with other four girls because they are Embraced, that is to say that they have magical powers. They all believe they are orphans and love each other like sisters.  Until Luciana's father shows in the convent and explains his troubles to her and she decides to go with him.  Luciana and her father play a dangerous game of deceit, but if the true nature of Luciana's birth were to be known, they could loose their life.  Luciana is beautiful, gentle, smart but naive, and has an unusual ability (I'm not saying what, to not spoil it for you). The king dictates that she is to be married to  Lord Leofric, the Beast of Benwick.
Leo is reluctant to even meet his new betrothed, especially since his mere touch can kill.  He has a power that comes from lighting and gives him electricity, speed and strength, but although he can better protect the kingdom that way, he cannot touch another human being.  It's a solitary life and everyone fears him and are actually quite mean to him.  As soon as he sees Luciana he becomes intrigued, then protective, then lustful and then falls in love.  Adversity – like the assassins trying to kill them – can bring people together fast!
"Did you wonder why I'm praying for a drought"?… "No rain means not lightning. That means my power would slowly disappear."
The back of her neck tingled. "Why would you want to lose your power?"
"So I can touch you. Kiss you." His voice lowered to a whisper. "Bed you."
I loved Leo and Luciana together.  It's so funny that Luciana thinks that she's hiding so many things and being sneaky, but that Leo is able to deduce a lot of what's going on.  Instead of confronting her though, he waits for Luciana to trust him.  I think they both try to see though each other's eyes and realize that they have no choice and they are better off joining forces.
I won't lie to you, I mean, the book's title is How to Tame a Best in Seven Days, so there is a case of insta-love here. However, it is not at all bothersome. I really think that Leo and Luciana were created for each other.  They become infatuated, protective of each other and when so many things and so many people are against them, they become a united front.  Besides, for some reason a paranormal, thriller kind of story lend itself better for a fast developing romance.
"The Beast wanted to be loved .
And it had to be her. He cared about her."
I really liked the secondary characters, Luriana's dad and sister, Christopher, Brody (I'm dying to learn that story!), Nevis, Jensen, and Edmond.  Both Leo and Luciana inspire trust and loyalty so it's not hard to see that they are loved and followed by so many.
I loved the world building.  It is well thought out and developed, religion and politics play a big part, and there are also dragons, elves, shifters, ghosts, assassins and much more.  The writing was excellent, as well as the banter between the characters.  The only caveat is that the pace is a bit slow, it takes a while for things to happen on the romantic level if you take my meaning.
Overall,  How to Tame a Beast in Seven Days is different take on the B&B fairy tale that is special, cute, romantic, full or action, magic and intrigue.  There are only two books projected in the series, but since there are five sisters in total I have high hopes of getting all five books.  In the meantime, I shall wait for So I Married a Sorcerer due to be published in August. 
Visit Kerrelyn Sparks website for the trailer and book excerpt of How to Tame a Beast in Seven Days