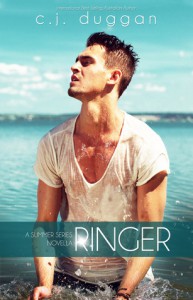 Ringer
by
C.J. Duggan
Published on
April 2nd, 2014
Genres:
Romance
Format:
eARC
Source:
Author
Amazon
|
Goodreads
They say it's the quiet ones you have to worry about, and she was quiet, very quiet—when she wasn't busy despising me with a burning passion.

Ringo 'Ringer' James has a no-strings-attached policy.

Love them, leave them, and remain the eternal bachelor.

After a summer in which every one of his mates has succumbed to settling down, or so it seemed, Ringer is on the lookout for a quick exit. Having had enough of the stomach-turning love fest witnessed over the past three months, Ringer jumps at the opportunity to help out his mate, Max, by heading to Max's dad's property for a working holiday.

It's just what he's looking for. A remote, dusty homestead in Ballan, with only hard work, a cold beer and a comfy bed to worry about – no women.

Until Miranda Henry.

The privately educated daughter of his boss has returned home from overseas and things are about to get very complicated, very fast. As summer draws to its end, Ringer is about to learn that sometimes attraction defies all logic, and that there really is such a thing as 'enemies with benefits.'

Duggan's Summer series is one of my favorite New Adult reads and with good reason!  You can find my review of the previous book, That One Summer here.  Ringer is a novella that follows the story of one of the gorgeous Onslow boys.
Ringer is feeling left out and irritated since most of his friends now have girlfriends.  Looking for an escape, he helps his mate Max by accepting to help his father for a few weeks while he goes to a rancher auction.  Here is where he meets Miranda, Max's sister.  I've always liked Ringer and his quick wit and I was looking forward to finally reading his story.
I think the reason that I didn't rate this book higher was that I didn't love Miranda.  She's a spoiled brat, without direction in her life, selfish and reckless.  I think that she realized all of this after Ringer's brutal honesty, and really hope to see how she's doing in the next book.  I did like the chemistry between her and Ringer even if it happened really fast and in spite of themselves.
Secondary characters, like Miranda's family and friends are well fleshed out and add a lot to the story.  Of course, the rest of the Onslow boys drop in for a brief visit, which is always a good thing 🙂
Overall, Ringer is a worthy addition to the series.  It's a short novella, and to me it felt a bit rushed, but I understand its limitations.  I cannot wait for Forever Summer, the forth book in the series and Ellie and Adam's story to be published in July of this year.