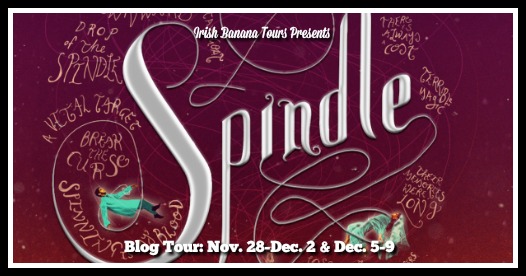 Welcome to this stop of E.K. Johnston's blog tour of her new book Spindle!  I really loved A Thousand Nights (see my review HERE) and I couldn't wait to get my hands on Spindle, which I was lucky to do.  Just look at the gorgeous cover:
ABOUT SPINDLE
The world is made safe by a woman…but it is a very big world.
It has been generations since the Storyteller Queen drove the demon out of her husband and saved her country from fire and blood. Her family has prospered beyond the borders of their village, and two new kingdoms have sprouted on either side of the mountains where the demons are kept prisoner by bright iron, and by the creatures the Storyteller Queen made to keep them contained.
But the prison is crumbling. Through years of careful manipulation, a demon has regained her power. She has made one kingdom strong and brought the other to its knees, waiting for the perfect moment to strike. When a princess is born, the demon is ready with the final blow: a curse that will cost the princess her very soul, or force her to destroy her own people to save her life.
The threads of magic are tightly spun, binding princess and exiled spinners into a desperate plot to break the curse before the demon can become a queen of men. But the web of power is dangerously tangled–and they may not see the true pattern until it is unspooled.
Find it Here: Amazon | B&N | Goodreads
Review
Spindle starts generations after the Storyteller Queen died and miles away from her desert kingdom.  The new two kinddoms of Kharuf and Qamih are on either side of the mountains that the creatures Storyteller crafted to guard the demons.  One of them managed to scape her prison and very slowly gained power and influence to overtake both.  This is a plan that has taken years to shape and it all ends with the Little Rose.
Zahrah, the Little Rose is the only daughter of the king and queen of Kahruf and during her fifth birthday celebration, all the magical creatures came to bestow gifts upon her, but the demon also showed up to curse her and all the spiners of the land.  Sounds familiar?  Of course it does! It's loosely based on the Sleeping Beauty fairy tale, which I haven't read many retellings before.
Our story begins 12 years after the curse and finds Yashaa, Arwa and Tariq, spiner's children that live in the crossroads between the two kingdoms being send on a quest.  On their way. they are joins by Saound and they decide to change their quest and make a new one.  They decide to break the curse instead and thus a whole new adventure begins.
Yashaa is our main character.  He's 18 and lived in the castle with his mother, the head spiner, until he was seven.  At the begining of the story Yashaa is full of hate and resentment that so much death and suffering pecause of one princess.  I loved how he slowly changed and evolve into a better person.  Arwa is 11 and Tariq is 15 and they are both orphans since the curse took their parents.  Together with Saound (also 18 and the son of a former guard), they form a tight brotherhood.  They do everything together and love each other dearly.
Zahrah is almost perfect.  The many gifts that the magical beings gave her make her resilient, quick to learn and almost indestructible. She's not what Yashaa was expecting, and at the same a lot more.  She inspires to be loved and followed and the party does it gladly.  She has suffered so much in her short life, not only for herself but for what the curse has done to her kindtom,  There is a bit of romance in the book, but it's not the center of the study at all and I wish there was more of it.
The story is told in the first person, from Yashaa's point of view, with a few chapters told from the demon's point of view.  I love Yashaa's voice and his determination to make everything better.  The writing is enthralling, captivating and very different.  I really love Johnston's writing style.  The only reason why this book is not reated higher is because of the ending. It's bittersweet and that's all I'm saying about it.
Overall, Spindle was a unique take on a beloved fairy tale and the continuation of the amazing trip that started with A Thousand Nights.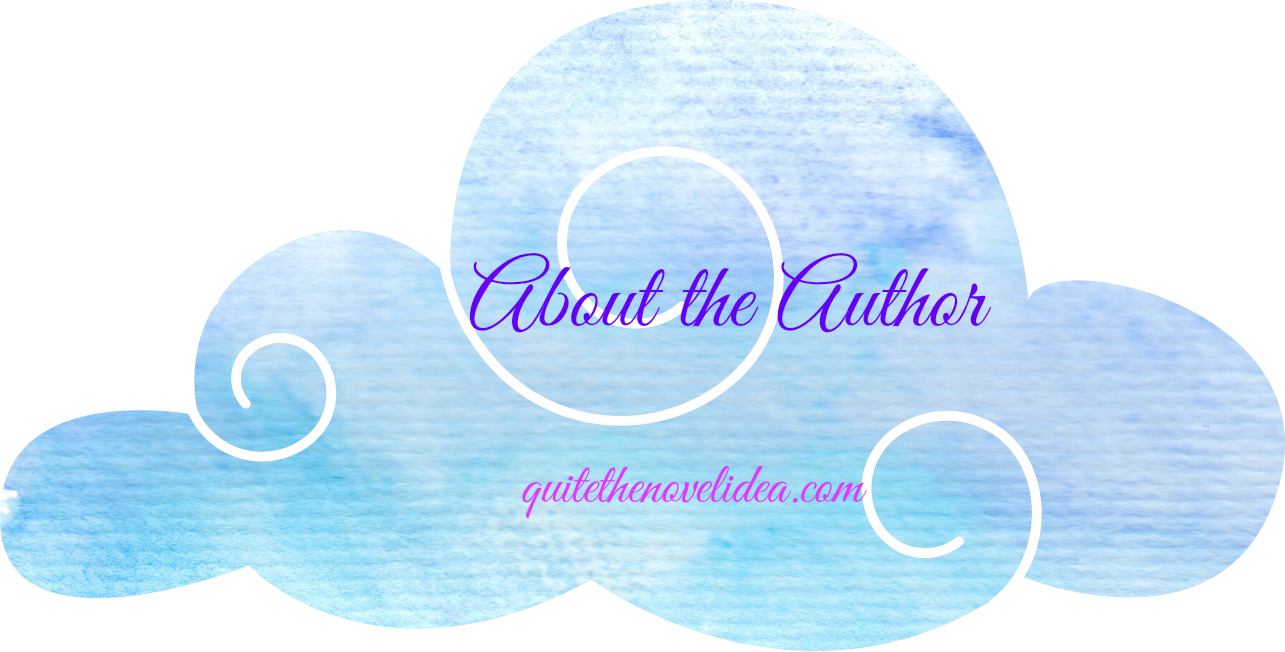 E.K. Johnston had several jobs and one vocation before she became a published writer. If she's learned anything, it's that things turn out weird sometimes, and there's not a lot you can do about it. Well, that and how to muscle through awkward fanfic because it's about a pairing she likes.
Her books range from contemporary fantasy (The Story of Owen, Prairie Fire), to fairy-tale reimaginings (A Thousand Nights, Spindle), and from small town Ontario (Exit, Pursued By A Bear), to a galaxy far, far away (Star Wars: Ahsoka). She has no plans to rein anything in.
You can follow Kate on Twitter (@ek_johnston) to learn more about Alderaanian political theory than you really need to know, or on Tumblr (ekjohnston) and Instagram (ek_johnston) if you're just here for pretty pictures.
E.K. Johnston is represented by Adams Literary
LINKS: Website | Twitter | Tumblr | Instagram

3 Finished Copies of SPINDLE (US Only)
Follow the Rest of the Tour!
Week 1:
11/28: Such A Novel Idea – Review
11/29: The Irish Banana Review – Fast 5
11/30: Quite the Novel Idea – Review
12/1: The Bookkeeper's Secret – Mood Board
12/2: Reading Is Better With Cupcakes – Review
Week 2:
12/5: Alexa Loves Reading – Bookish Style Files
12/6: Mundie Moms – Review
12/7: The Eater of Books – Q&A
12/8: Swoony Boys Podcast – Review
12/9: In Wonderland – Guest Post