Hi there my gorgeous readers!  Welcome to Quite the Novel Idea's stopy of Gena Showalter's Lifeblood.  This is the second book in her Everlife series and I enjoyed Firstlife  and I was eager to see what would happen with Ten after the ending.  I enjoyed Lifeblood even more! Stick around for my review and remember to enter the giveaway and visit the rest of the tour 🙂
About Lifeblood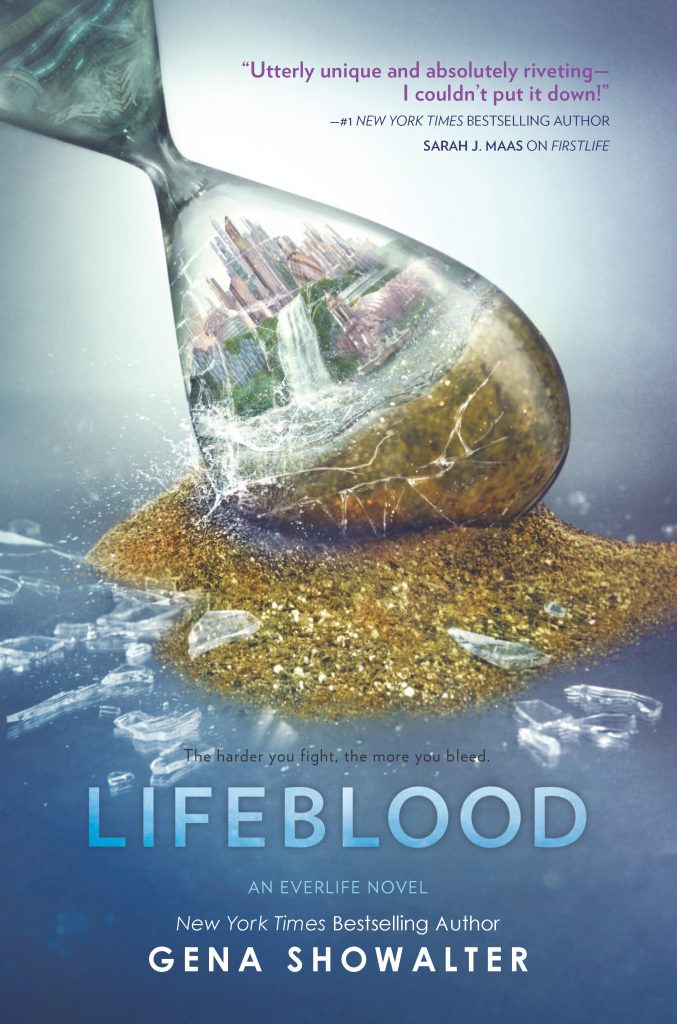 "My Firstlife is over, but my Everlife is only now beginning."
With her last living breath, Tenley "Ten" Lockwood made her choice and picked her realm in the Everlife. Now, as the war between Troika and Myriad rages, she must face the consequences.
Because Ten possesses a rare supernatural ability to absorb and share light, the Powers That Be have the highest expectations for her future—and the enemy wants her neutralized. Fighting to save her Secondlife, she must learn about her realm from the ground up while launching her first mission: convincing a select group of humans to join her side before they die. No pressure, right?
But Ten's competition is Killian, the boy she can't forget—the one who gave up everything for her happiness. He has only one shot at redemption: beating Ten at a game she's never even played. As their throw-downs heat up, so do their undeniable feelings, and soon, Ten will have to make another choice. Love…or victory.
Find it Here: Amazon | Indie Bound | Barnes & Noble | Goodreads
Review
Please check out my review of Firstlife for information about the first book in the series.  Lifeblood is the second book in the Everlife series and it was awesome!  While I felt like the first book was slower and that the world building took a lot of time, I hit the ground running with Lifeblood.
Ten has arrived to her Secondlife and has to learn the ropes.  The world building changes so we learn about Troika, all the rules, their way of living, Ten's training.  She makes new friends and also quite a few enemies.  Ten grows a lot in Lifeblood.  She's still loyal, passionate, loving, but grows to be more sure of herself, to whine less, to trust more, to have better judgement.  I like the person she become a lot more and also how she made peace with her previous life.
Although Killian and Ten are now in opposite realms that are at war with each other they are more in love with each other every day.  They learn to trust each other, to rely in each other.  Killian becomes kind of a spy for all things Ten and he's so protective of her that is SO sweet.  I just can't help but cheer for them.
The romance plays a bigger part in this installment.  I adore Killian (be still my heart), and specially Killian and Ten together.  They make each other stronger, better, eager to fight and conquer.  LOVE IT@
Showalter's writing is so good.  I have no idea how she came up with such an intricate, amazing world, but is is so awesome and easy to follow.  The plot is full of action, battles, intrigue, spies, new friends, new world and discoveries.  I can't wait to see what's next!
Overall, Lifeblood did not suffer from the YA trilogy syndrome.  I felt it was a lot better than the first book, in plot, character growth and swoon worthy romance.  Now, the wait starts for Everlife, the last book in the series, to be published next year. 

Gena Showalter is the New York Times and USA TODAY bestselling author of the Intertwined Novels, the White Rabbit Chronicles, and the Everlife Novels, among numerous novels for an adult audience as well. Her stories have been praised as "unputdownable." Gena lives in Oklahoma with her family and a menagerie of dogs. Follow her on twitter @genashowalter and visit her website at genashowalter.com.
Twitter |

2 signed sets of FIRSTLIFE & LIFEBLOOD (US Only)
Visit the Rest of the Tour Schedule!
Week 1:
3/6: Brittany's Book Rambles – Q&A
3/8: Reading Is Better With Cupcakes – Guest Post
3/9: Take Me Away To A Great Read – Review
3/10: Swoony Boys Podcast – Character Interview
Week 2:
3/13: Two Chicks On Books – Guest Post
3/14: Books Are Love – Review
3/15: Resch Reads and Reviews – Makeup Board
3/16: Here's to Happy Endings – Review
3/17: Lisa Loves Literature – Heaven vs. Hell
Week 3:
3/20: Quite the Novel Idea – Review
3/21: The Irish Banana Review – Fast 5
3/22: Mundie Moms – Review
3/23: Megnificent Boks – Top 10
3/24: Owl Always Be Reading – Review