Hi there gorgeous readers!! I'm beyond excited to participate in the blog tour for the amazing Liza Weimer's Hello?  I've meet Liza (she has a great name, huh?) a few times before at BEA and we I saw her earlier this year, I gifted her for one of my handmade bookmarks that happened to say "Hello".  Later, I offered to make some more bookmarks for her in order to celebrate her upcoming release.
I share her excitement, she's so bubbly that it's contagious not too.  I really loved Hello? and I hope you do too.  Stick around for an opportunity to win it 🙂
Hello? by Liza Weimer
Paperback, 400 pages
Published by Spencer Hill on November 10th
One HELLO? can change a life. One HELLO? can save a life.

Tricia: A girl struggling to find her way after her beloved grandma's death.
Emerson: A guy who lives his life to fulfill promises, real and hypothetical.
Angie: A girl with secrets she can only express through poetry.
Brenda: An actress and screenplay writer afraid to confront her past.
Brian: A potter who sets aside his life for Tricia, to the detriment of both.

Linked and transformed by one phone call, Hello? weaves together these five Wisconsin teens' stories into a compelling narrative of friendship and family, loss and love, heartbreak and healing, serendipity, and ultimately hope.

Told from all five viewpoints: narration (Tricia), narration (Emerson), free verse poetry (Angie), screenplay format (Brenda), narration and drawings (Brian).
Review
As I said above, I know Liza.  It is always nerve-wracking to read a book by someone you personally know, but other trusted bloggers also loved Hello? and so I was eager to find out what all the fuzz was about.   This book deserves all the hype and then some.  Its original storytelling and the way the characters' lives are intertwined with each other was intricate, well thought out and SO GOOD.
The story is told from five points of view and in a few different formats.  Let's explore them now:
Tricia (narration) – recently lost her grandmother, her rock and last living relative and has fallen into a deep depression because of it.  Tricia isolates herself and depends too much on Brian, while resenting that he really doesn't understand her.
Brian (narration and drawings) – is a pottery artist that puts his life on hold to take care of Tricia, his best friend and girlfriend.  Brian feels that he's at the end of his rope, he can't help Tricia and is unhappy about it.
Emerson (narration) – picks up the phone when Tricia calls at a time when her need is dire.  He helps a stranger that in turns sets a series of memorable events in motion.  Emerson is a true gentleman and tries to lead an exemplary life.  He's my favorite character because he's so sweet 🙂
Angie (free verse poetry) – is Emerson's girlfriend and kind of pretending to be someone she's not.  I didn't like Angie too much because she made some really bad decisions even knowing that it was the wrong thing to do.  I do understand why she did it, but still.  I did love the poetry, which is rare for me.
Brenda (screenplay) – is Angie's best friend and an aspiring actress and screenplay writer.  She has a big secret that dictates a lot on how she conducts her life.  She's forceful, outgoing, but reserves in certain aspects.  She's so brave, confronting her demons head on.
There is a memorable cast of secondary characters and I really liked the members of the community, and see some of the families and parents taking an active part on the life of the main characters which is kind of rare in YA.
The plot is well planned and it plants seeds throughout the chapters that allows the reader to arrive to the conclusion satisfied.  The story is full of so many feels.  The story is heartbreaking at times and other times is funny.  The writing is enthralling and insightful.  Each characters is not only distinctive, but this fact is understood in the way they tell their own story. It is obvious that Liza knows the setting well and that it means a lot to her.  Washington Island (in Wisconsin) especially feels almost like a character that is well love by all who lived there.
Overall, Hello? Is a gem. A story of loss, love, redemption, pain, abuse, fate, strength, friendship, hope and a lot more.  It's a story of how showing interest, listening and having empathy for someone can change a life, or even a few.  You don't have to know all the answers. Just listen. I wish I had the words to describe how much I loved this book and since I don't, I hope this review (and the many others like it) will convince you to give a chance. Now go and read it.
About Liza
I am the author of two non-fiction adult books, short stories, and newspaper and magazine articles. A pre-school to high school educator now writing YA fiction full time, which I LOVE, LOVE, LOVE! And I'm a diehard Green Bay Packers fan. For my author posts on writing and my upcoming YA novel HELLO?: http://www.LizaWiemer.com Unique "job" experiences: I spent a summer selling popcorn in a Koepsell's popcorn wagon while listening to awesome music on the Summerfest grounds in Milwaukee. I also know my way around a fender and a quarter panel and under the hood of a car. I spent a few years driving to accident scenes, scrapyards, hospitals, auto repair shops as a claims adjuster for an insurance company.
Links: Website | Twitter | Blog
I have two giveaways to share with you!
#1 – $25 Amazon Gift Card (Int) and 3 annotated copies of HELLO?
Provided by the blog tour
#2 An ARC of Hello? and a handmade "Hello" Bookmark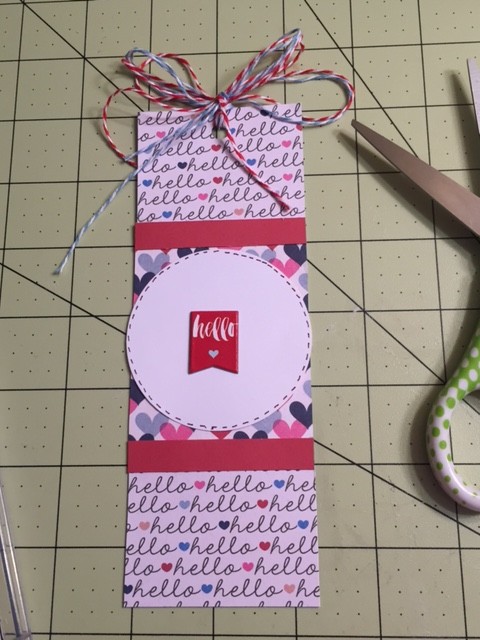 Provided by me. US Only

Visit the Rest of the Tour!
Week 1:
Nov. 2: The Irish Banana Review – Review
Nov. 3: Book Rock Betty – Guest Post
Nov. 4: YA Bibliophile – Review
Nov. 5: Paperback Princess – Playlist
Nov. 6: Resch Reads & Reviews – Review
Week 2:
Nov. 9: No BS Book Reviews – Q&A
Nov. 10: Forever Bookish – Review
Nov. 11: Swoony Boys Podcast – Character Interview
Nov. 12: Reading W/ABC – Review
Nov. 13: Stuck In Books – Top 10
Week 3:
Nov. 16: Mundie Moms – Review
Nov. 17: Fiction Fare – Guest Post
Nov. 18: Andi's ABCs – ABC Post
Nov. 19: Bookiemoji – Review
Nov. 20: A Book & A Latte – How I Write.