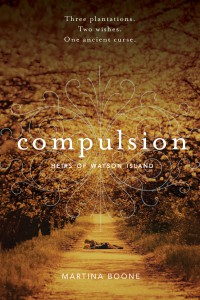 Compulsion
by
Martina Boone
Series:
The Heirs of Watson Island #1
Published on
October 28th, 2014
by
Simon Pulse
Genres:
Fantasy
,
Paranormal
,
Young Adult
Format:
ARC
Source:
ARC Provided for Tour
Amazon
|
B&N
|
Goodreads
Three plantations. Two wishes. One ancient curse.

All her life, Barrie Watson has been a virtual prisoner in the house where she lives with her shut-in mother. When her mother dies, Barrie promises to put some mileage on her stiletto heels. But she finds a new kind of prison at her aunt's South Carolina plantation instead--a prison guarded by an ancient spirit who long ago cursed one of the three founding families of Watson Island and gave the others magical gifts that became compulsions.

Stuck with the ghosts of a generations-old feud and hunted by forces she cannot see, Barrie must find a way to break free of the family legacy. With the help of sun-kissed Eight Beaufort, who knows what Barrie wants before she knows herself, the last Watson heir starts to unravel her family's twisted secrets. What she finds is dangerous: a love she never expected, a river that turns to fire at midnight, a gorgeous cousin who isn't what she seems, and very real enemies who want both Eight and Barrie dead.

Hello all! Today on the blog is an exciting day! The Compulsion Blog Tour stops here! Hope you enjoy!
Check out the Trailer!


Review
This is the best book I've ever read. *drops mic and walks away*
Every human (and literate alien, just to be fair) NEEDS to read this book. You might think, that doesn't seem like something I would like, but it is; I would like to think that I'm trustworthy considering I typically only read standalone contemporaries and this is a Southern Gothic series. So please just trust me and get your hands on this book ASAP.
I am honestly impressed that there is a synopsis for this book because if you were to ask me, I wouldn't know what to say because this book is about EVERYTHING. All of the things. There are so many different aspects to this book but they are beautifully crafted together into the most compelling story.
First off, the writing in this book is AMAZING. Like AMAZING. It's written in third person (love) and it's about a culture that I am completely unfamiliar with (South Carolina plantation life) but I legitimately feel like I've taken a trip there. This is a beautifully crafted masterpiece. 
Just try to put this bad boy down; it is nearly impossible because this book sucks you in at the very beginning! The foundation was beautifully laid and it just kept getting better and better. Things we are shown at the beginning come back for a starring role later in the novel and all of the intricacies are so IMPRESSIVE.
Compulsion has stuck with me; the lessons that it teaches are simple but truthful. Since Barrie, our main character, has had an emotionally absent mother for all of these years, we get to see her yearn for a family. Her definition of family changes throughout the book and it is a beautiful journey to be on. Aside from family, this book also teaches about love and not closing off your heart; Barrie has a history of shutting people out and as the story progresses, she faces the struggles of actually letting others in.
Speaking of Barrie, she is one of my favorite main characters ever; she is smart, always ready for a fight, funny, and deeply flawed. Basically, SHE IS AWESOME! I LOVED reading through her POV; I can't even put it into words how much I love Barrie.
This book is all about the history of Watson Island and the three founding families which means there is a lot to learn; I loved how the history was introduced to us through Barrie who just entered the world at the same time we did, we got to learn right alongside her. I don't usually enjoy history but I was RIVETED throughout this entire book; it was like a drug, I wanted more and more of it. Since there is history, there is also mystery (hehe, it rhymes). Barrie has so many questions and I was wholly captivated by every. single. one. of them. It just impresses me how well this book is written but more than that, how well the story is weaved together into the most beautiful of stories.
There are three founding families on Watson Island: the Watsons (naturally) who have the gift of finding things that are lost, the Beauforts who know what people want, and there are the Colesworth who are blinded by their jealousy. Just to make things interesting, the Watsons and the Beauforts have a tendency of falling in love.
Which brings us to Eight. Oh Eight. Charles Beaufort the eighth. Barrie felt a click sensation when she found something that was lost, a happy surge that went through her, and that is how I feel about Eight. He just clicked. He's right. He fits. I LOVED him as a character. The phrase "and Eight growled" was used SO MANY TIMES because he is a fighter; he instantly wants to protect the people he cares about and it made him endearing as a character. Barrie was often the cause of his growls but she would then try to save the situation. They worked so well together. I have never used the phrase OTP before but here I go: Eight and Barrie are my one true pair (in books, obviously Pacey and Joey will forever be my OTP in television). They teach each other so much and they can handle the other one; I could fill up pages and pages of their imperfect perfection but you should just go ahead and trust me.
This story is SO COMPELLING. You could reread it over and over again (which I'm obviously going to do) and always find something new and wonderful within the Martina's words. I had the thought while reading (please keep in mind that reading Valerie has weird thoughts) that I want to carry this book with me everywhere I go; I could be like Captain Hook (I had recently watched Once Upon a Time) but Captain Compulsion (working title). I just LOVED THIS BOOK SO MUCH! 
Please read it.
Giveaway
(1)  $100 Amazon, Barnes & Noble, or Book Depository Gift Card.  International.
(1) Prize pack with 10 books! SWEET EVIL, DEATH SWORN, MADMAN'S DAUGHTER, ANNA DRESSED IN BLOOD,ECHOES OF US, A THOUSAND PIECES OF YOU,THE BODY FINDER, THE TAKING, and STONE COLD TOUCH. US Only.
(3) Swag packs containing a Compulsion necklace, key bookmark, signed bookplate, and "I have a Compulsion for reading" temporary tattoos. International.
a Rafflecopter giveaway

Follow the Rest of the Tour!
  Week One:   10/20/2014- Once Upon a Twilight– Guest Post   10/21/2014- The Eater of Books!– Review   10/22/2014- Xpresso Reads– Interview   10/23/2014- Book Briefs– Review   10/24/2014- Reading YA Rocks– Guest Post   Week Two:   10/27/2014- Reading with ABC– Review   10/28/2014- IceyBooks– Interview   10/29/2014- Book Beasties– Review   10/30/2014- Seeing Night Reviews– Guest Post   10/31/2014- Two Chicks on Books– Guest Post