Hi gorgeous readers!  I read A Thousand Nights in August and I have to say that I really loved it.  It's a very different and unique read that kept enthralled and thinking really heard on what exactly was going on.  E.K Johnston has a wonderful imagination and this turned out to me a great story.  Stick around for my review and good luck on the giveaway! 
About A Thousand Nights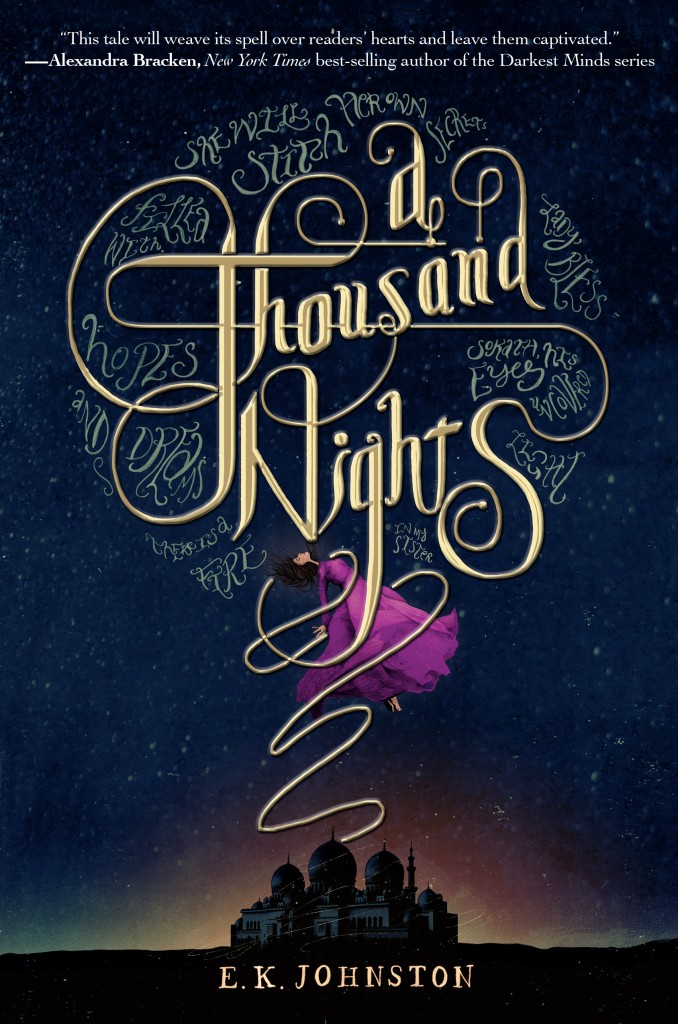 Published by: Disney-Hyperioon
Release date: October 6th, 2015
Hadcover, 336 pages
Lo-Melkhiin killed three hundred girls before he came to her village, looking for a wife. When she sees the dust cloud on the horizon, she knows he has arrived. She knows he will want the loveliest girl: her sister. She vows she will not let her be next.

And so she is taken in her sister's place, and she believes death will soon follow. Lo-Melkhiin's court is a dangerous palace filled with pretty things: intricate statues with wretched eyes, exquisite threads to weave the most beautiful garments. She sees everything as if for the last time.But the first sun rises and sets, and she is not dead. Night after night, Lo-Melkhiin comes to her and listens to the stories she tells, and day after day she is awoken by the sunrise. Exploring the palace, she begins to unlock years of fear that have tormented and silenced a kingdom. Lo-Melkhiin was not always a cruel ruler. Something went wrong.

Far away, in their village, her sister is mourning. Through her pain, she calls upon the desert winds, conjuring a subtle unseen magic, and something besides death stirs the air.

Back at the palace, the words she speaks to Lo-Melkhiin every night are given a strange life of their own. Little things, at first: a dress from home, a vision of her sister. With each tale she spins, her power grows. Soon she dreams of bigger, more terrible magic: power enough to save a king, if she can put an end to the rule of a monster.
Review
A Thousand Nights is unique.  I think that's the best word to describe my fascination with this story.  Yes, I read The Wrath and the Dawn – I still haven't reviewed it – and this review will not be a comparison of the two, because they are nothing alike.
Before you (and I!) get all confused, let me start by saying that most of the characters are nameless.  Yes, you read it correctly.  Lo-Melkhiin is the king that has killed 300 hundred wives thus far.  Most of the characters are then Lo-Melkhiin's "mother", our protagonist becomes the "wife" or "Lady-bless", and her family "my sister", "my mother", "my sister's mother", "my youngest brother", you get the idea.  Believe it or not, I was still intrigued by the notion and the story was not hard to follow.
"I love you," I called out. The words were for everyone, for my mothers, and the words were only for my sister.

My sister was on her knees when they put me on the horse, her while liner browned by the sand and her hair falling forward across her face. "
Lo-Melkhiin was crowned king very young.  He's a hunter and one day while hunting a lion, he came back changed.  This is common knowledge and I think it was the accepted belief that he was "possessed" by something. However, he was an excellent king, the lands grew prosperous and most importantly, he was feared and the fact that he seemed to go through so many wives was conveniently overlooked. When Lo-Melkhiin comes to her village to select a wife, she calls attention to herself in order to save her sister's life since she was the prettier of the two. 
"My common wife," he said at lenth… "You are not afraid of me. Tell me why."

"There is no cause for fear," I told him.

"You do not worry that I will call for your death, right in this room, if you do not please me?" he asked.

"I know you can and might," I said. "The flood will come, fast and without warning, because the ground is not accustom to it. And therefore it is not worth fearing."
Her sister, her mother and then it seems like the whole country starts praying for the new bride and that turned her into a live "smallgod" and it grant her some powers.  This powers give her some extent of protection against Lo-Melkhiin, a clearer image of what goes on around her and also the power of having visions.  In A Thousand Nights, she doesn't make up a story to stay alive, rather, she talks about her people's stories in an attempt to feel closer to all that she loves. This is not a story in which she falls in love with her husband, but neither does she cower in front of him.  She's brave, smart and resourceful.
"The pieces of the tale I knew came quickly to me, the ones shaped like my sister and the ones to which could be shaped. They flew about me, and I plucked them from the air."
The pace is slow.  I wasn't bored, but this is not action packed thriller either.  Most of the action happens at the end, when she returns home to attend her sister's wedding.  She realizes how tired the kingdom are of Lo-Melkhiin's rules and the taking of young brides only to die.  The writing is beautiful most of the time and a true pleasure to read.  There is a lot of wisdom in Johnston's words and a great deal of attention is paid to the culture, the setting, and the importance of family.  The story is told in first person, except that before each chapter there is a few pages from Lo-Melkhiin's point of view.
I won't lie to you though, the story is weird at times and things are not always explained fully.  You must use your imagination too! There is a sort of happy ending, but I wish there was an epilogue or something more.  I wish we could have a better idea of what happened after.
Overall, Johnston managed to make A Thousand Nights a very distinct work that is loosely based in the classic fairy tale.  I was very much enthralled by its uniqueness, by the strong heroine, by the love between siblings and the almost palpable power of culture and family.  
4 Stars
About the Author
K. Johnston is a forensic archaeologist by training, a book seller and author by trade, and a grammarian by nature. She spends a great deal of time on the Internet because it is less expensive than going to Scotland. She can probably tell you, to the instant, when she fell in love with any particular song; but don't ask her, because then it will be stuck in both of your heads.

Giveaway
PRETTY THINGS IN A DANGEROUS PLACE prize pack
One (1) winner receives:
*Copy of A Thousand Nights;
*Branded nail polish set & tea bag dispenser.
Giveaway open to US addresses only.
Prizing and samples provided by Disney-Hyperion.
LEARN MORE
Learn more on un-requiredreading.com
#AThousandNights