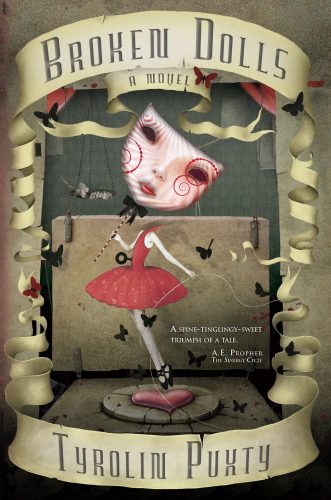 Broken Dolls
by
Tyrolin Puxty
Series:
Broken Dolls #1
Pages:
175
Published on
14th December, 2015
Genres:
Horror
,
Fantasy
Format:
eARC
Source:
Publisher
Amazon
|
Goodreads
Ella doesn't remember what it's like to be human - after all, she's lived as a doll for thirty years. She forgets what it's like to taste, to breathe…to love.

She helps the professor create other dolls, but they don't seem to hang around for long. His most recent creation is Lisa, a sly goth. Ella doesn't like Lisa. How could she, when Lisa keeps trying to destroy her?

Ella likes the professor's granddaughter though, even if she is dying. Gabby is like Ella's personal bodyguard. It's too bad the professor wants to turn Gabby into a doll too, depriving her of an education…depriving her of life.

With time running out and mad dolls on the rampage, Ella questions her very existence as she unearths the secrets buried in her past; secrets that will decide whether Gabby will befall the same fate…
I received this book for free from the publisher or author in exchange for an honest review.
This does not affect my opinion of the book or the content of my review.
Review:
Readers tend to overuse the phrase "this is unlike anything I've read before". We use it to describe books that flip stereotypes or slightly alter their cliched dystopian worlds. But how often do we really, truly mean it? Broken Dolls is actually one of the most unique books I've ever read. The vague idea of it reminded me of the disturbing episode of Criminal Minds where a psychopathic lady kidnapped girls and dressed them up as her real-life doll set… but, somehow, it was even more disturbing.
Our main character, Ella, is a doll, but once upon a time she was human. She can't remember it, exactly, but she's doesn't really mind. She knows that the professor only did it to save her. She was a broken girl after all… he had no choice. Talk about creepy, right? But, of course, it isn't that simple and the more we read, the more we find out about the circumstances behind the professor's assumed madness.
I think it was the suspenseful undertones that kept me reading, to be honest. This story is rather short, but if there wasn't so many questions that needed answering I don't know if I would have finished it so easily. There's something a little off at the beginning of the story. Our protagonist isn't a bad protagonist, but she isn't the most riveting at the same time. I never felt that I understood her motives. Added to the fact that we had very little idea what was actually happening, it was a little hard to get into the story. I'm still not sure if this is meant to be set in a dystopian world or not… and I don't like that I have unanswered questions. Hopefully, they'll be addressed in the sequel?
But like I said before, the more the story evolved and the more we discovered about Ella, the professor and Gabby, the more I liked it. It was a fantastically eerie story as a whole, and I think that it did accomplish what it set out to do. Even though some of the characters were simply bonkers, there was something about this story that made it impossible to put down.
The ending was a little jarring, but I loved that I wasn't able to guess any of the twists. The professor's backstory was just… gah! It was so surprising and raw. It tied almost everything thing up, and I loved that it was able to play with my emotions.
Overall, if you enjoy the magical realism and eerie, gothic writing of A Monster Calls but wanted something a little less childish or contemporary-based then I think this might be worth a shot. It was unique and well-written, and will surprise you in the long run.
Latest posts by Rachel Lightwood
(see all)