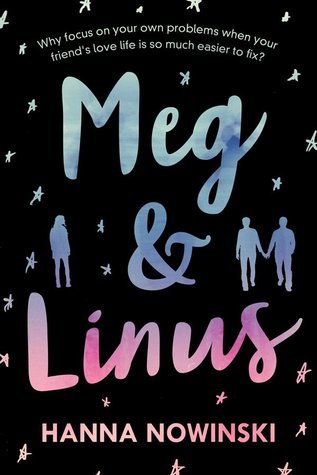 Meg & Linus
by
Hanna Nowinski
Published on
April 18th 2017
by
Swoon Reads
Genres:
Young Adult
,
Contemporary
,
LGBT
Amazon
|
B&N
|
Goodreads
Can friendship, Star Trek, drama club, and a whole lot of coffee get two nerdy best friends through the beginning of their senior year of high school?

Meg and Linus are best friends bound by a shared love of school, a coffee obsession, and being queer. It's not always easy to be the nerdy lesbian or gay kid in a suburban town. But they have each other. And a few Star Trek boxed sets. They're pretty happy.

But then Sophia, Meg's longtime girlfriend, breaks up with Meg. Linus starts tutoring the totally dreamy new kid, Danny—and Meg thinks setting them up is the perfect project to distract herself from her own heartbreak. But Linus isn't so sure Danny even likes guys, and maybe Sophia isn't quite as out of the picture as Meg thought she was. . . .

From crowdsourced young adult imprint Swoon Reads comes Meg & Linus by Hanna Nowinski, a fun friendship story about two quirky teens who must learn to get out of their comfort zones and take risks—even if that means joining the drama club, making new friends, and learning how to stand on your own.
Excerpt
Maybe "'selectively shy"' is a good way to describe my approach to social situations. Like, I have no problem walking up to most people and starting a conversation. I get along with the school librarians, I always have a chat with the check-out people at the grocery store, and I'm on a first-name basis with most of the bus drivers from all the times I couldn't get a ride home with anyone and didn't feel much like walking.
The only problem is that I have absolutely no idea what to say when I meet people I really want to have a conversation with. I have a tendency to panic.
Like that time I was out looking at colleges with my dad and we ran into Alan Tudyk. In a sandwich shop. To this day I have no idea what he was doing there. Well. , He he was probably buying a sandwich. And I didn't even recognize him at first, because who expects that to happen? But then my dad was like, "Hey, isn't that the dude from that show you forced me to watch?" And, well, yeah, it was him.
I mean, I wouldn't have gone up to him even if my legs hadn't decided to go all weird and wobbly all of a sudden. Because, seriously, let the guy buy a sandwich in peace. But my point is that a normal person could have made the conscious decision to leave him alone instead of turning really pale and then blushing tomato red and then being unable to utter more than one-syllable words for the next fifteen minutes.
So, talking to Danny? Agreeing to tutor him? It could be a massive disaster of previously undiscovered proportions. There is absolutely no telling what might happen if I attempt this.
And yet, the thought doesn't leave me alone all through bio class—it is almost too good to be true. And it's not like I expect anything, I don't really want anything from him, I just . . . oh god no, I couldn't do it. It's too weird.
Giveaway
Save
Save