Hello there gorgeous readers! Welcome to the first stop of The Graces blog tour.  Please stick around for my interview with Laure Eve, the giveaway and remeber to visit the rest of the tour 🙂
About The Graces
Author: Laure Eve
Pub. Date: September 6, 2016
Publisher: Amulet Books
Pages: 352
Formats: Hardcover, eBook, audiobook
When a glamorous family of teenage witches brings a mysterious new girl into their fold, they unwittingly nurture a powerful black magic that could destroy them all. This paranormal YA fantasy features intrigue, spells, and a devastating twist. In The Graces, the first rule of witchcraft states that if you want something badly enough, you can get it . . . no matter who has to pay.

Everyone loves the Graces. Fenrin, Thalia, and Summer Grace are captivating, wealthy, and glamorous. They've managed to cast a spell over not just their high school but also their entire town—and they're rumored to have powerful connections all over the world. If you're not in love with one of them, you want to be them. Especially River: the loner, new girl at school. She's different from her peers, who both revere and fear the Grace family. She wants to be a Grace more than anything. But what the Graces don't know is that River's presence in town is no accident.

This fabulously addictive fantasy combines sophisticated and haunting prose with a gut-punching twist that readers will be dying to discuss. Perfect for fans of We Were Liars as well as nostalgicclassics like Buffy the Vampire Slayer and the 1996 movie The Craft, The Graces marks the beginning of a new wave of teen witches.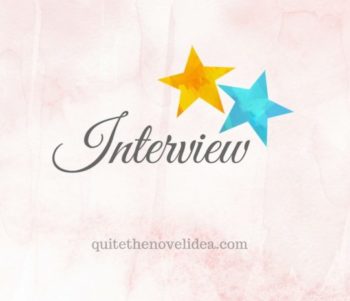 Q- Can you describe The Graces in five words or less?
Obsession.
Desire.
Secrets.
Power.
Magic…?
Q- The names of the main characters are unique. Where do they come from?  Do they mean anything to you?
They do. Thalia is a reference to the original Charites or Graces of Greek mythology. Her mother named her for the muse of poetry.
Fenrin is a riff on Fenrir. There's a bit of a minor spoiler clue in his name so I will say no more.
Summer is a reference to a particular girl I used to know, called Autumn.
I tend to choose names quite deliberately – either they reference something from another book or movie or mythology that I like, or they give you hints to the character or the plot.
Although I must admit that sometimes I choose them simply because they fit, without any kind of logical thought process.
Q- Do you think that The Graces is a bit like Mean Girls?
A- Mean Girls. Heathers. The Crucible. All of these stories explore that edge of danger female friendships can have, that slightly toxic power play. It's something I'm interested in as a writer.
Q- What are the top three YA books you're looking forward to reading soon?
Caraval by Stephanie Garber. I keep seeing it everywhere and I managed to score an arc recently, so I can't wait to read it.
Crooked Kingdom by Leigh Bardugo. Six of Crows was such a perfect ride.
Strange the Dreamer by Laini Taylor. No-one does dreamy gorgeous fantasy writing like Laini.
Q- If you could read only one book for the rest of your life, what would that be?
OH MY GOD. WHAT KIND OF A QUESTION IS THIS.
A horrible one. So I am going to CHEAT and give you a series – The Dark Tower by Stephen King. It's mad, and flawed, but I could spend years lost in that huge world, making up my own side stories as I went along.
Q- Pie or Cake?
Cake.
Q- Tea or Coffee?
You know the Gilmore Girls?
You know the beverage they really, really like?
That.
Laure Eve

3 winners will receive a finished copy of THE GRACES and Temporary Tattoos, US Only.
Visit the Rest of the Tour!
Week One:
8/22/2016- Quite the Novel Idea– Interview
8/23/2016- Novel Novice– Review
8/24/2016- Stories & Sweeties– Excerpt
8/25/2016- Fiction Fare– Review
8/26/2016- A Dream Within A Dream– Guest post
Week Two:
9/5/2016- Tales of the Ravenous Reader– Review
9/6/2016- a GREAT read– Character Interview
9/7/2016- All Things Urban Fantasy– Review
9/8/2016- The Cover Contessa– Interview
9/9/2016- Ex Libris– Review