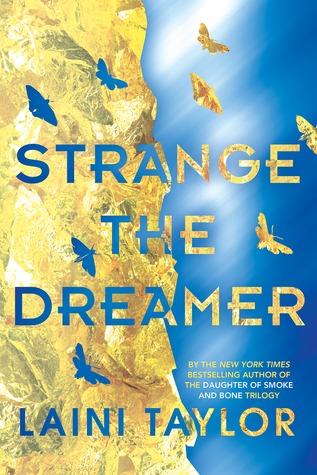 Strange the Dreamer (Strange the Dreamer, #1)
by
Laini Taylor
Series:
Strange The Dreamer #1
Pages:
544
Published on
March 28th 2017
by
Little
,
Brown Books for Young Readers
Genres:
Fantasy
,
Romance
,
Young Adult
Format:
eARC
Source:
ARC Provided for Tour
Amazon
|
B&N
|
BookDepository
|
Goodreads
Also by this author:
Daughter of Smoke & Bone
,
Dreams of Gods & Monsters
,
Daughter of Smoke & Bone
,
Days of Blood & Starlight
,
Dreams of Gods & Monsters
A new epic fantasy by National Book Award finalist and New York Times bestselling author Laini Taylor of the Daughter of Smoke & Bone trilogy.

The dream chooses the dreamer, not the other way around—
and Lazlo Strange, war orphan and junior librarian, has always feared that his dream chose poorly. Since he was five years old he's been obsessed with the mythic lost city of Weep, but it would take someone bolder than he to cross half the world in search of it. Then a stunning opportunity presents itself, in the person of a hero called the Godslayer and a band of legendary warriors, and he has to seize his chance to lose his dream forever.
What happened in Weep two hundred years ago to cut it off from the rest of the world? What exactly did the Godslayer slay that went by the name of god? And what is the mysterious problem he now seeks help in solving?
The answers await in Weep, but so do more mysteries—including the blue-skinned goddess who appears in Lazlo's dreams. How did he dream her before he knew she existed? and if all the gods are dead, why does she seem so real?
In this sweeping and breathtaking new novel by National Book Award finalist Laini Taylor, author of the New York Times bestselling Daughter of Smoke & Bone trilogy, the shadow of the past is as real as the ghosts who haunt the citadel of murdered gods. Fall into a mythical world of dread and wonder, moths and nightmares, love and carnage.
Welcome to Weep.
I received this book for free from the publisher or author in exchange for an honest review.
This does not affect my opinion of the book or the content of my review.
Strange the Dreamer is one of my most anticipated reads of 2017.  Not surprising given that I adore Taylor's Daughter of Smoke & Bone series. I read everything she writes since she writes pure magic. Now, let's get on with the review!
Lazlo Strange is a orphan, a librarian, a gentle soul and a dreamer.  He has dreamed his entire life about the lost city of Weep, that "disappeared" from books, trade and memory, except for him.  Lazlo made it his life's work to read and document everything related to Weep until one day, he had the opportunity to get out of the library and travel there to unravel a 200 year old mystery. I loved Lazlo.  He's not handsome, he's humble, genuinely caring, without guile, with an immense imagination, beloved by most people that care to know him.
"Strange the dreamer," they called him. "That dreamer, Strange." And it didn't help that he sometimes walked into walls while reading, or that his favorite books hailed from dusty sublevel where no one else cared to go." 
It is hard to explain who Sarai is without spoiling too much of the story.  Let's just say that she's blue, and she has magic.  It is in Lazlo's very vivid and incredible dreams that they meet each other.  Sarai is special and has lived all her life isolated from the real world, but in the company of three sisters and a brother.  I learned to like Sarai as she learned to forgive and know herself.
Sarai and Lazlo's relationship – in dreams, as it where – is a thing of magic (pun intended).  They are both so loved starved. They crave intimacy, friendship, contact with others, trust… that is not a wonder that it develops kind of fast.  It's believable, and very real to them.
Strange the Dreamer is a YA, but an older YA.  That is to say, that there are terrible things that happened in the city of Weep, but I think that all in all, Laini Taylor handled it with care and respect.  The writing is amazing, as it is to be expected from her.  Lyrical, enthralling, breathtaking, magical.  
"You're a storyteller. Dream up something wild and improbable," she pleaded. "Something beautiful and full of monsters."
"Beautiful and full of monsters?"
"All the best stories are."
The only thing that I didn't love about the book is the pace.  Sometimes I felt how long the book was,  not that it wasn't interesting, but a bit slow at times.  The ending, however was brutal.  So many things happened in the last 10% of the book, most of them I didn't see coming and some of them left me with my mouth hanging wide open.  No exactly a cliffhanger, but rather an unbearable suspense. 
"Like nightmares, dreams were insidious things, and didn't like being locked away."
Overall, Strange the Dreamer is a marvelous story of love and hate, oppression, a quest for freedom, the search of knowledge. Of magic, gods, slaves, impossibility, monsters and beauty.  Marvelous. 
Visit the Rest of the Tour:
Week 1:
3/20: My Friends Are Fiction – Review
3/21: Alexa Loves Reading – Bookish Style Files
3/22: Mundie Moms – Review
3/23: What Sarah Read – Review
3/24: Reading Teen – Review
Week 2:
3/27: No BS Book Reviews – Makeup Collage
3/28: YA Bibliophile – Review
3/29: The Irish Banana Review – Review
3/30: Quite the Novel Idea – Review
3/31: Fiction Fare – Review