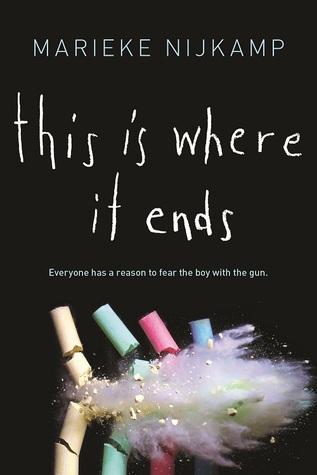 This is Where it Ends
by
Marieke Nijkamp
Published on
January 5th 2016
by
Sourcebooks Fire
Genres:
Contemporary
Format:
eARC
Source:
Netgalley
Goodreads
10:00 a.m.
The principal of Opportunity, Alabama's high school finishes her speech, welcoming the entire student body to a new semester and encouraging them to excel and achieve.

10:02 a.m.
The students get up to leave the auditorium for their next class.

10:03
The auditorium doors won't open.

10:05
Someone starts shooting.

Told over the span of 54 harrowing minutes from four different perspectives, terror reigns as one student's calculated revenge turns into the ultimate game of survival.
I received this book for free from the publisher or author in exchange for an honest review.
This does not affect my opinion of the book or the content of my review.

Even after thinking a few hours, I still don't know what to say about this book. Really, Marieke… You certainly set a high bar for your future novels because this is one hell of a debut. I'm kind of speechless right now and if I'm not careful this review will end up as a rant and I don't want that. So I'm just going to say what comes up in my head and roll with it.
I'm not going to give a summary of this book, because everything you need to know is in the blurb. Read that blurb, then start the book. I think that'll give you the best experience. However, I will warn you… This is not an easy book to read. It handles a very tough subject and it takes place over the span of 54 minutes, told from 4 different POV's. It is never boring and it kept me on the edge of my seat, sobbing 98% of the time. I was angry, I was sad, I was shocked. And when I finished this book, the only thing I felt was… "This is not okay." Because it's not.
How to make an almost 300-page book that takes place in the limited time span of 54 minutes not boring? This is how. The story is told slowly and detailed. It doesn't pull any punches and nor should it. I think this is highly realistic portrayal of how this would be in real life. I'm very lucky to have never experienced it before but now I kind of feel like I do. Marieke managed to make me care about every single character. However minor they were, I felt their pain and fear. The four people from whom the story is told are each connected in a way and each very unique and so well-developed. I would like to take this moment to celebrate the abundance of diversity among all characters in this book. Bravo for that!
The writing is excellent and like I mentioned before, Marieke has set a very high bar for herself with this debut. The only negative thing I can come up with is that this book cost me precious hours of sleeping time but that's my own stupid fault, really. A tip: don't start this book at 2am. In fact, I'm going to tell you now that if you want to read this book, which you really should, make sure you have a couple of hours free so you can read it in one sitting because it's one of those books. Because of the limited time span and the brilliant way it was executed, you won't want to put this down until it's over.
I think that is about all I'm going to say about this book. This is Where it Ends is a very, very impressive debut and I am really looking forward to future works by this author. If every book she writes is as fantastic as this one, I can tell you that she has a bright future ahead of her. Go read this book, but make sure to bring a lot of tissues.