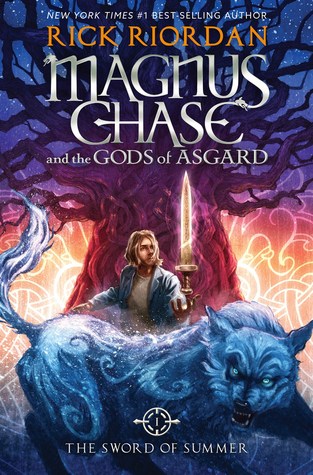 The Sword of Summer
by
Rick Riordan
Series:
Magnus Chase and the Gods of Asgard #1
Published on
October 6th 2015
by
Disney Hyperion
Genres:
Young Adult
,
Mythology
Format:
eBook
Source:
Purchased
Amazon
|
BookDepository
|
Goodreads
Also by this author:
The Lightning Thief
Magnus Chase has always been a troubled kid. Since his mother's mysterious death, he's lived alone on the streets of Boston, surviving by his wits, keeping one step ahead of the police and the truant officers. One day, he's tracked down by an uncle he's never met—a man his mother claimed was dangerous. His uncle tells him an impossible secret: Magnus is the son of a Norse god. The Viking myths are true. The gods of Asgard are preparing for war. Trolls, giants and worse monsters are stirring for doomsday. To prevent Ragnarok, Magnus must search the Nine Worlds for a weapon that has been lost for thousands of years. When an attack by fire giants forces him to choose between his own safety and the lives of hundreds of innocents, Magnus makes a fatal decision. Sometimes, the only way to start a new life is to die . . .
Well, now I just feel bad about the fact that I hadn't read a Rick Riordan book until now. This was awesome! Despite me not being a big fan of mythology, I loved this. Also, this book is hilarious so that helped a lot.
After his mother's mysterious death two years ago, Magnus has been homeless. One day he's tracked down by an uncle he's never met, someone his mother always told him was dangerous. His uncle tells him he's the son of a Norse God and that all the myths are true. When a fire giant attacks him and his friends on their way to search for a legendary weapon, he risks his life to save hundreds. But Magnus never could've imagined that dying would only be the beginning of an unimaginable adventure.
This was really, really awesome for 2 reasons and I'll get into those in a bit. I just want the bad out of the way. It's not really all that negative but it did bother me a bit. This feels a lot like a middle grade book in the way it's set up. We have the hero of the story who discovers he has powers or something and thus begins his adventure in which he has to go from point A to point B, but on his way to point B there are a lot of bumps in the road and detours. And there's nothing wrong with that at all, but some of these detours felt a bit unnecessary or too long. They were all very entertaining though so it didn't bother me that much.
The first reason why this book is awesome is the story and the writing. I'm not a big fan of mythology, so I was scared I wouldn't enjoy this that much. Luckily, I'm a big fan of the Marvel movies, so I actually knew some of the stuff in this book! I knew Thor, Loki, Odin, the Nine Worlds, the Bifrost, Valhalla,… So I wasn't completely lost. Plus I loved the runes and stuff. But that's why I haven't read Percy Jackson yet. My knowledge of Greek mythology only goes as far as the Disney movie Hercules. I have seen the two Percy Jackson movies, so I did get the references and I knew Annabeth, who makes a cameo in this book. I do plan on reading the PJ books though.
The second reason was the characters and the humor that came with them. All these characters are so awesome and I looooved all of them! But my favorites have to be Magnus and Jack. They bad ass and hilarious. I laughed so much reading this book! Of course I also loved Hearth, Blitz, Sam and all the others. Am I a tad disappointed Thor is nothing like his Marvel version? Yes, I am. But I loved him nonetheless.
Fans of Rick Riordan will love this book. Those who are like me and haven't managed to pick up one of his books, I highly recommend you do! Great characters to root for, fantastic world-building and so very, very funny, this is a book you can't miss.