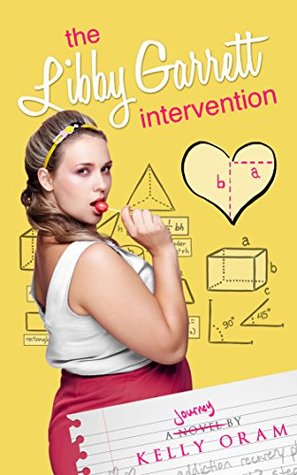 The Libby Garrett Intervention
by
Kelly Oram
Series:
Science Squad #2
Published on
October 24th 2015
by
Bluefields
Genres:
Contemporary
,
Romance
Format:
eARC
Source:
Author
Amazon
|
Goodreads
Also by this author:
Being Jamie Baker
,
The Avery Shaw Experiment
,
Cinder & Ella
,
V is for Virgin
,
A is for Abstinence
Libby Garrett is addicted to Owen Jackson's hot lovin'. But the sexy, popular college basketball player doesn't appreciate all of Libby's awesomeness. He refuses to be exclusive or even admit to people that they're dating. The relationship is ruining Libby and she's the only one who can't see it.

When Libby's behavior spirals completely out of control, her best friend Avery Shaw and the rest of the Science Squad stage an intervention hoping to cure Libby of her harmful Owen addiction. They put her through her very own Twelve Step program—Owen's Anonymous—and recruit the help of a sexy, broody, hard as nails coffee man to be her official sponsor.

...

Adam Koepp has watched Libby Garrett for years. How could he not notice the sassy girl with the purple skateboard and helmet plastered with cat stickers? But in all the years he's crushed on her, Libby has failed to take notice of him. Why would she when he was just a nobody high school drop out who served her apple cider several times a week? Especially when she was hooking up with a guy like Owen Jackson—a guy with a college scholarship and more abs than Kyle Hamilton.

Adam finally gets the chance to meet Libby when his co-worker Avery Shaw recruits him to take Libby on the journey of a lifetime. With his ability to play Bad Cop and his experience with the Twelve Step program he's the perfect candidate to be Libby's sponsor. But will he be able to keep his personal feelings out of the matter and really help her the way she needs? And will Libby hate him when he forces her to take an honest look at herself?

This follow-up companion novel to The Avery Shaw Experiment can be read as a stand alone. (But where's the fun in that?) 😉
I received this book for free from the publisher or author in exchange for an honest review.
This does not affect my opinion of the book or the content of my review.

I could sum up this book in one gif, really. But what would be the fun in that? I needs to share the love I feel for it, though calling it a review will be kind of a stretch. Hmm… Let's call it a gush-fest extravaganza! Yes, that's perfect. Why? Cause I got myself my first ever bookcrush and his name is Adam Koepp. F-ing swoon. Seriously. So much swoon.
The Libby Garrett Intervention can be called the next book in the Science Squad series, though you can read it as a standalone. I do advice against that because The Avery Shaw Experiment is fantastic and you have to read it. This one follows Avery's best friend Libby, who I adored in TASE. Libby has changed in the last year and not for the better. Ever since this thing started with the popular, hot Owen. But it's not good for Libby because Owen only uses her for sex and nothing more. He refuses to be her boyfriend and avoids being seen together because Libby doesn't exactly have the "perfect" body. So Avery stages an intervention and does Libby's twelve-step program to get rid of her addiction to Owen starts and her sponsor is the sexy, stubborn Adam whom she calls Coffee Man. But she doesn't know that Adam has had eyes for Libby for a while and taking on this job as her sponsor may ruin his chances with her.
Before I start gushing about Adam, which is inevitable, I'll try to tell you about all the other things in this book. I love Kelly Oram and she never fails to disappoint me. So of course the writing was amazing, it always is. Kelly once again reaffirms why she is one of my favorite contemporary authors. She knows how to go from a light and fluffy mood, to swoony or dead-serious in a heartbeat. And this one has all of it. Serious, heartbreaking moments that made me tear up, light and fluffy ones that made me laugh and giggle and so much swoon that my heart almost couldn't take it anymore. Honestly, I think Kelly deserves way more attention for her novels. If you're a contemporary fan, please check out one of her books. Start with this series or Cinder & Ella or V is for Virgin. They're all so amazing and so very underrated.
Now the characters. I always love the characters in Kelly's books. She just knows how to make them feel real. I want to be friends with these characters. Laugh and cry with them. It was awesome seeing Avery and Grayson again and the other members of the Science Squad, and they I hope get their own books too! I loved Libby's parents so much, they were so awesome! Especially her dad. I loved his bromance with Adam, whom I'll get to in a bit. I also loved Kate, Adam's sister. Libby… I had a bumpy road with her. She made a lot of bad choices at first but she redeemed herself over the course of the novel and in the end I do love her. But she did have to win me over and that took a while. Now.. ADAM! Gosh, how can I even begin describing this guy? He's so imperfectly perfect. I loved him right away and I just fell for him, hard. By the time I was halfway through this book I was really struggling to root for the romance because I just wanted to jump into the book and steal him for myself. (Though I did root for it and it was amazing!) I could gush about him for ages, but I'd rather you pick up this book and discover for yourself how amazing he is.
The Libby Garrett Intervention is another home-run for Kelly Oram. Combining swoony, heartfelt and fluffy moments with heartbreaking ones that make you tear up or just full-on cry, this book is a YA Contemporary must-read. Go discover the awesome that is Kelly Oram, now!